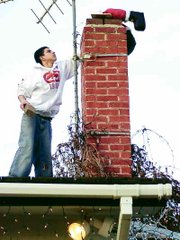 Brothers Emanuel and Juan Aguilar have made visiting Marge Zylstra's house during the holidays a tradition.
Three years ago Juan, 17, volunteered to help the then recently widowed Zylstra display lights on her Arrowsmith house and shrubs during the holiday season.
Last year, his younger brother, Emanuel, began helping with the monumental task, which includes checking thousands of lights and replacing the bulbs.
The elder brother first met Zylstra, a para-pro at Chief Kamiakin Elementary School, when she was still working with a science program at Harrison Middle School. His brother later went through the same program. Now, at Chief Kamiakin, their younger siblings are learning from Zylstra, who has become like one of the family.
The first year Zylstra's husband died Juan asked her if she had a job he could do. With 47 acres of grapes, there was much work to be done on the farm. Together the two of them got to know each other as they worked in the vineyard.
"We spent every day of the summer out there," he said.
At times, the entire Aguilar family would come out and help with different parts of the growing process.
It was Zylstra's first Christmas without her husband that Juan volunteered to decorate for the holidays, something Zylstra's late husband Dave used to do.
"My husband always decorated, but nothing to the extent of what the boys have done," said Zylstra.
Besides placing lights on the house and fence, the boys displayed a herd of lighted deer, covered shrubs, bushes and trees with lights and placed 30 miniature, lighted Christmas trees along Zylstra's driveway.
"It seems like every year they come up with new ideas of what to do," said Zylstra.
And, every year the collection of Christmas decorations grows a little more.
This year a second reindeer and brightly wrapped presents have been added to Santa's sleigh on top of the house, as have trees to the lighted forest around Zylstra's house.
The first year Zylstra helped Juan, but both agreed that since she retired from decorating after that first year it goes a lot faster. The boys also enjoy the benefits of frequent hot chocolate and soup breaks Zylstra provides now that she is focusing on decorating the inside of her home.
"We don't get that cold out there," said Juan. "She's always coming out and asking us if we want hot chocolate or soup."
This year it only took four weekends to decorate the house, which they started adorning with lights before Thanksgiving. The warmer weather contributed to their success. Last year, with bitter cold temperatures, decorating was a little more challenging.
Both brothers find different aspects of decorating difficult. Emanuel walks on the roof as if it were flat ground, but Juan finds roof work the hardest. Emanuel, on the other hand, doesn't like looking for burnt out bulbs, an essential part of the process since if one bulb goes out they all do.
They also had problems with the deer this year since only half of each deer would light up, but they got the problem fixed in time for the holidays.
Although the boys decorate Zylstra's house, the brothers, who are two of nine children, said their home is not adorned externally with lights.
"It's fun," said Juan. "It gives us something to do instead of just being at home. And, there's always baking going on here."
Juan, a Sunnyside High School senior, plans to go onto college next year, but he also plans to make time to help Zylstra with her Christmas lights.
Through the whole process, Zylstra has gained more than she expected.
"Their family has been kind of my extended family," said Zylstra. "Most of my family lives on the coast. Juan has even gone over to my mother's house to help her."
.