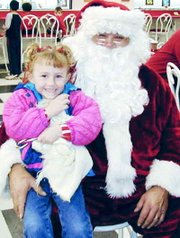 When Karen Friend of Sunnyside approached her long-time friend Bernie Charvet with a very special holiday request, he was hesitant to comply.
Friend wanted him to help her out by dressing up as Santa Claus for a special event she was planning as part of the annual Sunnyside Lighted Farm Implement Parade celebration. She was in charge of organizing a breakfast with Santa, which was held at the Sunnyside Community Center. She also was hosting a Santa's cookie decorating workshop at the Sunnyside Dairy Fair for youngsters and their parents.
But she was in serious need of a happy, enthusiast person to pose as jolly old St. Nick, a role Charvet freely admits he was a tad reluctant to undertake. Friend, however, continued to encourage Charvet, saying he would be a wonderful Santa for the Sunnyside Chamber's "breakfast with Santa" function.
"I told her it would be my first and probably my last time playing Santa," Charvet said.
But that attitude quickly dissipated as the impromptu Santa encountered the first of the eager children waiting to meet him.
"They amazed me," Charvet said. "I was expecting the children to have long lists of toys like you see on television," he explained.
"But most of the little kids only wanted one item," he said.
Granted, some of the items were pretty big, like the little girl who wanted a pony and her sister who wanted a horse.
And there was that one little boy who wanted a fishing boat for his dad so they could go fishing together.
There were some children, though, who were content with just catching a glimpse of Santa.
Charvet said there was one little girl, dressed in a red velvet dress, who seemed perfectly content to wave at Santa from a distance. She showed no inclination to get closer than within 20 feet of Santa, he said.
"I was amazed by the things the children said to me," Charvet said.
"One little boy wanted me to go to a party with him," Charvet laughed. "I must admit I was tempted."
Charvet, who works for SS Steiner, Inc. in its Yakima office, also agreed to tag along with Mrs. Claus (played by Friend) to the cookie decorating workshop held at the Sunnyside Dairy Fair.
"It was a good time," he now admits.
"In fact, I am pretty sure I'll be dressing up again next year. Now, I want to know what the kids will say next year," he laughed.
.