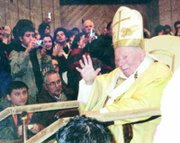 Remembering Christmases past is something many people do as they prepare for the holiday season. And this year, Sunnyside resident Amy Betancourt has a lot of reminiscing to do. Last year, at this same time, Betancourt was getting ready to attend midnight mass at the Vatican in Rome.
Betancourt said her trip didn't start off as a religious adventure. Instead, she said last summer she made an important decision.
"I said if I don't go [to Europe] now I'll never go," Betancourt said.
That notion was all it took. Betancourt found a friend to accompany her on her journey and by the end of September 2003 she had bought her plane tickets.
Betancourt, who works at Toppenish's Heritage University, said she originally decided to make the trip over Christmas break because it's a slow time at work. The thought of attending midnight mass in Rome hadn't even crossed her mind.
She explained that she has a friend living in Rome who is studying for his doctorate degree. As her departure date got closer and closer, Betancourt said she found herself emailing her friend more and more. He was the person who planted in Betancourt's head the seed of attending the Pope's midnight mass.
She explained that people can't just show up at the door to the Vatican on Christmas Eve and expect to attend mass. Instead, Betancourt noted she had to write a letter requesting tickets for the mass, adding that her friend in Rome also had to send off a letter of recommendation for her. She later learned that the Vatican receives more than 16,000 requests from Americans wanting to attend the special service. Only half of them received tickets last year and Betancourt was lucky enough to be one of them.
When Betancourt, a devout Catholic, finally arrived in Rome, she said actually attending the mass was an experience she will never forget.
"Trying to get in was like trying to get into a concert," Betancourt explained.
She said the doors opened at 10 p.m. for the midnight mass, noting that she had to make her way through four check points before getting into the service, with Swiss Guards stopping everyone along the way.
Betancourt said she was amazed at just how many people there were at the service and that so many were from different parts of the world. She noted that the missal she received for the mass had been translated into a myriad of different languages.
Once the service started, Betancourt said she was struck by the grandeur of where she was. She watched all of the priests walk down the aisle to the altar, followed by groups of altar servers, cardinals, bishops, more Swiss Guards and finally the Pope.
"They just came in a wave," Betancourt said of the processional. She added the whole basilica went quiet as the Pope made his way to the altar.
"It sent chills up my spine," Betancourt said.
As she sat through the hour and a half mass, Betancourt said she listened carefully, taking in the moment.
"It was just so beautiful," she said. "What had the most impact on me was just the ambiance. Everyone was feeling the same thing, the excitement, the joy, their faith."
Betancourt said St. Peter's Basilica, which holds 60,000 people, was full that night. She added that thousands more people watched the service on big screens in the courtyard outside the Basilica.
Betancourt said being able to attend the special service was something she will never forget.
"It was so awesome," she said. "It meant so much to me."
That one night didn't mark the only time Betancourt would spend in the Basilica. Betancourt and her travel companion made a point of returning the next day. She said it was only then that they were able to take in everything St. Peter's Basilica has to offer, including Michelangelo's Pieta, the place where St. Peter is buried, and the tomb of the Popes. She noted that there is a lot of history in the walls of the Basilica. Betancourt said walking in visitors can see where Constantine was crowned emperor of Rome.
"It's amazing," she said.
Although last year's Christmas celebration was a once in a lifetime experience for Betancourt, she said it was difficult to spend her first holiday season away from her family.
"I was really missing them, but at the same time I felt really blessed to be there (Rome)," she said.
Looking back, Betancourt said last Christmas was a holiday she will remember forever.
"I will tell my grandkids and my great-grandkids," she said. "It was just such a special thing."
.