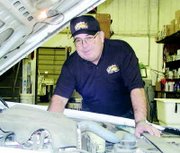 After 22 years at the city shop, Sunnyside Maintenance Supervisor Dennis Cromwell has decided it's time to throw in the towel. Cromwell's last day with the city was Dec. 22.
"I'm going to miss all of the guys, the public works guys," Cromwell said last week.
Over the years, Cromwell has played a central role in ensuring that all of the city equipment, from weed eaters to road graders, have been in proper working condition. He said one of his biggest challenges over the years has been ensuring that equipment is ready to go when the guys need it.
Cromwell said all of the city's mechanical needs, with few exceptions, are taken care of in the city shop.
"I've always enjoyed (mechanical work)," Cromwell said. "I've always liked cars and stuff."
The number of cars Cromwell has had the opportunity to work on over the past two decades is staggering. He said the city fleet has more than doubled since he was first hired in 1982, a trend he thinks will continue as the community grows.
Cromwell said when he first started the city had just three police cars, a number that today stands at eight.
"The city has grown," he noted.
The number of vehicles in the city fleet isn't the only thing that has changed over the years. Cromwell said there have been some other changes as well. He said when he first went to work for the city it had a healthy equipment rental fund, which meant that all of the machinery taken care of at the city shop was in fairly good condition. He said recently he has seen that begin to change.
Looking back, Cromwell said he feels that his best years with the city were his first years.
"I really enjoyed getting machinery fixed up," he said. "There was some pride in your job."
In fact, Cromwell said he can remember there was one day in 1985 when he had a chance to work on several city vehicles at once. He said he got a call at home one Sunday, that all of the police cars in the city had quit working. Cromwell said he learned the vehicles had gotten some bad fuel and all of the carburetors had plugged up.
"It was quite a dilemma," Cromwell said.
But thanks to Cromwell's experience as a mechanic the problem was rectified. Cromwell, who has nearly 35 years of mechanic experience under his belt, takes after his father, who was also a mechanic. He added that his parents owned what is now known as Tee Pee Auto Wrecking, which meant that he grew up in Outlook around old cars.
For Cromwell, taking the job with the City of Sunnyside 22 years ago meant being able to come home, in a sense. Cromwell said after growing up in the Sunnyside area he went to work at Boeing, then spent two years working as a mechanic in the Army. Finally, he found himself working as a mechanic for the Sanpoil Lumber Company in Republic. He said he had worked at the lumber mill for 10 years when he noticed the advertisement for the job in Sunnyside.
Cromwell explained that at the time he was looking for a job that would be easier on his body, noting that he was starting to have back problems with all of the heavy lifting associated with the lumber mill.
"It was kind of like coming home," Cromwell said.
Since taking the job, Cromwell has enjoyed his time living in the Sunnyside area. However, as he prepared for his retirement, Cromwell decided it was time to move back out into the country.
In July, Cromwell and his wife, Oneta, moved to Goldendale.
"We wanted to get out of the Valley," he said.
Cromwell added that they are enjoying the tall trees and fresh air Goldendale has to offer.
"We were looking around for a nice place to retire," he said.
For the past five months Cromwell has been commuting from Goldendale to Sunnyside every day for work. He said he leaves at 5 a.m. and doesn't get home until about 7 p.m.
Even though Cromwell just recently retired, he already has plans for the days ahead. He said he and his wife want to take their RV out and visit every state in the country. When he isn't out traveling, Cromwell said he hopes to keep his mechanical skills tuned up, restoring antique cars. His first project is a 1936 Plymouth, the car he drove in high school.
Although Cromwell has officially retired as the city's mechanic, his family's work in the industry will continue. He said his oldest son, Dennis Jr., is the manager of the NAPA store in Prosser, while his other son, Tony, is the owner of Cromwell Radiator and Automotive Repair in Grandview.
.