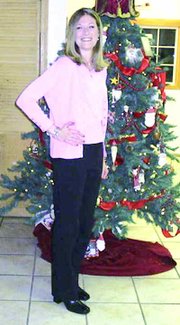 When three unexpected visitors walked into Sunnyside High School science teacher Robin Bryson's room two weeks ago, she could hardly believe she had been the next one selected for the Sunnyside Bodacious Makeover and Dinner sponsored by local salons, restaurants and massage therapists.
Cris Owsley of The Hair Dresser & Company and Beautiful Faces by Cris was one of the local beauty professionals who helped select Bryson for the second of four makeovers.
"When we went through the applications there were six students nominating her, so we thought, 'wow,' this is someone we've got to get our hands on," said Owsley.
Going to the high school, Owsley, Cathy Hunsaker of Scissors City and Kathy Corliss, who provided the flowers, along with Sunnyside High School Principal Dennis Birr, surprised Bryson by announcing she had been chosen for a makeover. Rather than whisking her away, as they did with their first makeover recipient, they let her know they would pick her up on Wednesday, Dec. 15, for a day of beauty.
A single teacher, Bryson is very different from the mother of 12 adopted children chosen for the first makeover.
"We wanted to pick people from all walks-of-life," said Owsley. "We didn't want to just pick one particular kind of people."
Bryson's makeover included a new ensemble, a massage, a facial with mini microderma abrasion, hand paraffin bath, a manicure and pedicure, hairstyle, which included coloring, makeup application, flowers and dinner.
.