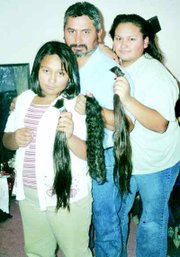 It's a family affair when it comes to haircuts in the Hector Canales household.
Recently, Hector Canales of Sunnyside and his teenage daughters, Raven and Marisol, relieved themselves of just over four feet of hair.
The discarded hair is now on its way to the Florida-based Locks of Love organization, a charity which collects human hair to create wigs for children who have suffered hair loss through illness.
Normally, it is young girls who choose to give up their long hair for others, said Dawn Grisby, who documented the emotional event for the family.
She said Canales, who has worn long hair for many years, decided to join his daughters in their benevolent act when he learned his haircut would benefit children.
"He had been thinking about cutting his hair for some time," Grisby added.
With the aid of long-time family friend, hair stylist Renee Johnson-Hursh, the family was shorn of 50 inches of hair. Raven, 16, had the longest braid of hair, giving up 20-inches of her dark brown hair. Canales and Marisol each contributed 15-inch long braids.
"They are all feeling a bit lighter since their joint haircuts," Grisby added.