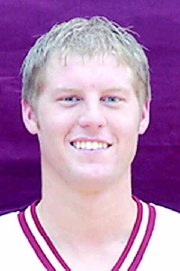 by Chris Newberry
Lance Den Boer used to dazzle Sunnyside Christian fans with his outstanding basketball skills on the court. Now, the 2003 SCHS graduate is displaying his skills on a different level.
Den Boer recently celebrated his 20th birthday as a member of the Central Washington University men's basketball team.
The height of his prep basketball career came in the 2001-02 season when he helped lead the Knights to a State 'B' Championship title. As a junior he scored 15 points in the 37-32 win over St. George in the 'B' State title game. In his final prep basketball game, Den Boer scored 30 points against St. George to help lead the Knights to a fourth place finish in the 2002-03 State 'B' basketball tournament.
During his senior year of high school, Den Boer scored 860 points, becoming the all-time state scoring leader. Den Boer passed Curlew's Jeremy Groth's record of 2,447 points in January 2003 in a game against Riverside Christian at the Yakima Valley SunDome. Den Boer ended his high school career with 2,851 points.
Den Boer committed during his senior year in high school to play on the Washington State University men's basketball team. He played for the WSU Cougars for one year before transferring to Central Washington University.
"I actually like attending Central a lot better for a couple of reasons," said Den Boer. "I have more friends that go here. It's closer for all my family to watch me play, and the town is bigger so you don't feel like you're out in the middle of nowhere."
What Den Boer likes about Central Washington University basketball is that he is getting an opportunity to play a lot of minutes each game. The coaches believe in him and want to see him succeed, said Den Boer.
"All of the players and coaches have accepted me very well. I really enjoy playing with these guys. These guys are unselfish and are willing to do whatever they have to do to get the job done," said Den Boer. "We're off to a sluggish start right now, we have some players hurt, but we'll keep battling and when we get everyone back, we should have a pretty darn good ball club."
Den Boer has started all seven games he has played in at Central Washington University this season. He has posted some solid statistics in the early part of the season. He has connected on 48-of-98 shots from the field, 22-of-49 three-point shots and 21-of-29 free throws. Den Boer is averaging 5.4 rebounds per game. He has collected 28 defensive rebounds and also has 10 offense boards. Den Boer is averaging 19.9 points per game, scoring a total of 139 points this season.
Den Boer and the Wildcats will end 2004 with a game against Minnesota State and Cal. State L.A. at a tournament in Monmouth, Oregon on Dec. 29-30. The Wildcats will begin the new year with home games against Seattle Pacific and Western Washington University on Jan. 6th and 8th. The season record for the Wildcats so far is two wins and six losses.
While attending WSU, Den Boer enjoyed the fact that he was able to attain his goal of playing in the Pac-10 Conference. Den Boer said he had fun traveling to all of the different schools and playing on their courts.
"The reason I left (WSU) was because of basketball," Den Boer said. "I wanted to be able to play because I wasn't content with practicing everyday without getting the chance to play."
Den Boer, a sophomore, plans on majoring in education so he can become a physical education teacher. Den Boer also said he would like to later get into coaching with thoughts of eventually going into administration.
"After college, I plan on settling down and hopefully find a job that suits me well," Den Boer said.