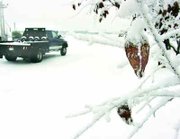 Two inches of snow and everything seems to be fine. This morning Lower Valley residents awoke to a blanket of snow and according to local law enforcement agencies everything is so-far-so-good at this point.
"It's not causing too many headaches yet," said Sunnyside Police Chief Ed Radder.
Radder said people seemed to be taking it easy this morning, being cautious as they drove the snowy roads to work.
"So far we've been very fortunate," he said.
Radder added that if temperatures warm up this afternoon it should melt off most of the snow and make driving conditions better. On the other hand, he said with the snow getting packed down by drivers, if it gets colder things could be pretty slick tonight and on into tomorrow morning.
According to the ACCU Weather service, the snowy weather is expected to continue through tomorrow with another chance of snow coming over the weekend.
The Sunnyside Police Department isn't the only law enforcement agency in the area that is having a slow morning considering the weather. A spokesperson for the Yakima County Sheriff's Office commented that everything has been quiet.
Sunnyside Fire Chief Aaron Markham commented that things have also been slow for the fire department this morning.
"So far so good," Markham said. "It's been pretty quiet."
He said one thing the fire department has been busy doing this morning is clearing the snow from the sidewalks in front of the station. He added that typically when it snows they try to chain up their third-out fire engine, just in case there is a fire on the hill. Markham said the newest engine that is owned jointly between the Sunnyside Fire Department and Yakima County Fire District 5 has on-spot chains, which means they are always there under the engine ready to go.
Markham said he considers snow to be a blessing because it's one winter weather condition that is visible and therefore causes people to slow down when they see it blanketing roads. He said ice is one condition that can make things dangerous, noting that people can't see ice as easily.
Although things have been quiet for local emergency responders this morning, the first snowfall of the season is keeping the Washington State Patrol busy. Troopers were so busy that there was no one available to answer questions this morning.
The Sunnyside Public Works department has also been busy. John Stanton with the City of Sunnyside said they have had sanders out taking care of local streets since 4 a.m. He commented that since 6:30 a.m. the city has been running full force, with three sanders out on the road.
As for Pacific Power and Sprint, both companies said they haven't had any problems reported this morning in the Lower Valley area due to the morning snowfall.