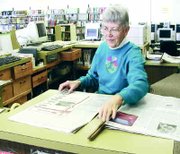 For 40 years, Elaine Becker has straightened book shelves and lined up newspapers for Sunnyside public library patrons. It's a job the long-time librarian assistant expects to continue into the future, even though the library will be under new ownership as of Jan. 3.
Becker and the five library employees aren't expecting to see any immediate changes in their situations as their new boss, the Yakima Regional Library System, takes over.
Becker, who began working in the Sunnyside library when the facility opened in 1964, said she hopes to continue aiding Sunnyside library patrons for as long as she is able.
She can be assured that no staffing or service changes are expected to be made in the immediate future, according to Monica Weyhe, director of the regional library system.
The regional system has always maintained the staffing and services at the local library, Weyhe said. But under the annexation conditions approved by Sunnyside voters last March, the building now falls under the regional system, as well.
"For the time being patrons won't see any changes," she said. But Weyhe does expect to hold an informational meeting in January to survey patrons about possible changes they may want to see at the local facility.
Topping her list of potential changes will be the establishment of a new Friends of the Library organization, replacing the current city-appointed advisory library board.
The Friends group will be charged with supporting the library via special events to raise money for items for the library, as well as promoting the use of the library.
"We're not sure just when that meeting will be held," Weyhe said.
In the meantime, Stan Snow, the current chairman of the Sunnyside library board, said the board will hold its last official meeting Tuesday, Jan. 11, at 4 p.m.
"We are hoping members of the current board will want to aid in the formation of the new Friends of the Library board," he said. "Anyone interested in being a part of the new friends group is encouraged to call the library for more information about the group's formation."
Snow, a long-time library supporter, said he hopes the Friends group will be able to continue several of the projects the current board has undertaken, including its weekly used book sales.
Sunnyside voters overwhelming approved annexation of the local library into the regional system this past March. The annexation frees up money for the Sunnyside city budget, which has been reallocated to the general expense fund. Previously, the city spent nearly $140,000 a year to maintain its contract with the regional library for maintenance and operation of the Sunnyside library.
Under the annexation, Sunnysiders will now pay 49.4¢ per $1,000 of their assessed property valuation to support the library district.