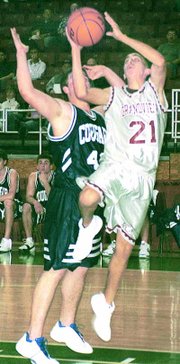 YAKIMA - It almost had to be like looking in a mirror for the Grandview High School boys basketball team.
The Greyhounds faced off against Chewelah in the SunDome Shootout yesterday, overcoming a rough third quarter to win 51-41.
"They have got a good squad," said Grandview Coach Scott Parrish. "There size was a problem."
The Cougars surprised Grandview at the beginning of the game, as they challenged everything the Greyhounds did to near perfection for the opening few minutes.
"It took us a while to get going," said Parrish. "They played great defense."
Grandview started to bounce back midway through the first quarter, fending off a stammering Cougar defense that swatted shots, clogged the middle lanes and had a hand in front of everything Grandview put up. Despite the pressure, the Greyhounds led 16-14 at the end of the first quarter.
Grandview missed a golden opportunity in the second quarter to really pull away from Chewelah. Led by Cordeo Cisneros, who had 10 of Grandview's 33 rebounds, the Greyhounds went on a stretch of denying Chewelah shoots at the hoop. But Grandview struggled to convert on the other end of the basket.
Cisneros and Brandon Artz came through for the Greyhounds during their struggles in the first half.
Parrish was very pleased with the way Artz played in the absence of Grandview's Chris Mejia, who had surgery this morning (Thursday) on an injured knee. Mejia is expected to be out two to three weeks, said Parrish. Artz was one of three Grandview players in double digits, scoring 11 points apiece.
"He hit a couple of 3's and played good defense," said Parrish.
The Greyhounds would end up needing the 35-24 lead they had at the break in the second half. The Cougars manhandled Grandview, outscoring the Greyhounds 12 to 4 to open the second half.
"They came out and were real aggressive," said Parrish. "We didn't step up when we had to."
The Greyhounds got back on track offensively in the fourth quarter, opening the period with a 12-1 run to finish off the Cougars.
"We switched up our press and our half-court defense," said Parrish.
Parrish said the Cougars struggled against Grandview's zone defense. The Greyhounds were able to convert a number of Chewelah turnovers into points. Grandview outscored the Cougars 12 to 6 in the fourth quarter.
Also scoring for the Greyhounds last night were James Vela and Adam Dion, who had 11 points each.
The Greyhounds (0-0, 6-0) will play Selah tonight at the SunDome at 9 p.m.
"They have a bunch of seniors that are pretty good," said Parrish.