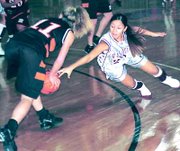 YAKIMA - The Lady Greyhounds were on fire when they took the court last night against Zillah in the SunDome Shootout tournament. Grandview managed to hold Zillah to one point in the first quarter, which resulted in a 38-30 victory for the Lady 'Hounds.
"We looked really good that first quarter," said Grandview Coach Adolfo Hinojosa.
He said going into the non-league game his team had set several goals for themselves, including keeping Zillah's score under 40 points.
After keeping a tight rein on the competition at the beginning of the match-up, the Lady 'Hounds allowed Zillah to get back into the fray. The Leopards closed to within 22-13 at intermission.
Hinojosa said his team gave Zillah a lot of "second-chance points." He noted that the Lady 'Hounds at times were slow in their transition defense, which left the lane open for the Leopards.
"They were not getting back fast enough," Hinojosa said of his team.
He added that the girls were also taken aback by their first time playing in the SunDome.
"They were soaking it in," Hinojosa said.
Overall, Hinojosa said he feels his team looked pretty good against Zillah.
One player who especially stood out last night was senior Mari Cornejo. A post player for Grandview, she ran the floor well and hit the glass hard.
"She was running and rebounding for us," Hinojosa said.
Cornejo was also the leading scorer on the night with 13 points. Also helping on the scoreboard for Grandview was senior Jessica Rodriguez, who had 7 points, including one three-point field goal.
The Lady 'Hounds (3-4) will play at the SunDome again tonight (Thursday). This time they will take on Selah.
Grandview 12 10 8 8 -38
Zillah 1 12 6 11 -30
3-pt. FG - Grandview 3/5 (Hinojosa, D. Rodriguez, J. Rodriguez), Zillah 1/1. FT - Grandview 11/25, Zillah 9/21.
Grandview-Cornejo 13, J. Rodriguez 7, Wysong 2, Martinez 2, D. Rodriguez 4, Luper 3, Hinojosa 3, Leidig 4.