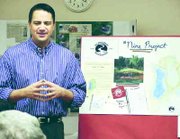 Since PGA Pro Jeff Bender joined the staff of Black Rock Creek Golf Course a few years ago, a lot of things have changed.
Wednesday morning, Bender, who was the guest speaker for the Sunnyside Daybreak Rotary Club, said the person behind many of the changes has been the course superintendent.
"We have a superintendent who never sits on his laurels," Bender said.
He said since joining the staff at the local golf course there have been boulders added to the course on several holes, and some extensive work has been done to hole seven.
But in preparation for the course's 60th anniversary, which will take place in 2005, Bender said the staff is looking to do more than emblazon that fact on shirts and hats. He said they are hoping to refurbish the lake on hole nine.
"We wanted to do a giant project," Bender said.
He explained that at this time the lake is full of cattails, which obstructs the view of the hole.
"People struggle with that hole probably more than they should," Bender said.
He noted that at this point the plan is to take the cattails out of the lake, dig down 12 feet and fill it back in with water.
"We want to clean it up and put a fountain in," Bender said.
He added that they are also planning on putting in a new bunker near the ninth green. Bender explained that there used to be a dead tree alongside the hole, which has since been removed. The bunker will be placed where the tree once stood.
Bender said the golf course is currently working to raise the money needed to make the improvements. According to Bender, they will have to raise $20,000 to get the ninth hole improvement project completed. At this point they have already raised $4,000 for the project.
Bender said if they are able to raise $10,000 in January they will be able to begin the project, which will include getting earth movers into the lake while the ground is still hard.
If everything goes as planned, Bender said the 60th anniversary project should be completed by February.
Bender said it's important for golf courses, like Black Rock Creek, to continually change and improve.
"We have to have something that will bring people here," he said.