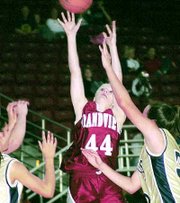 YAKIMA - The holiday break has proved to be a good one for the Grandview High School girls basketball team.
The Lady Greyhounds climbed back to the .500 mark (4-4) with back-to-back wins at the SunDome Shootout in Yakima this past Wednesday and Thursday nights.
Grandview beat Zillah on Wednesday night and then handily controlled last night's outing against Selah, winning 46-41.
"It was really big for us, especially for our confidence," said Grandview coach Adolfo Hinojosa of his team's performance at the SunDome Shootout. "We kept it together. Last night, we learned how to win together."
About the only problem the Lady Greyhounds had last night against Selah was the play of Christine Clark, who had a dominating outing in the post with 21 points. But Clark was no match for the fiery play of Grandview's Jessica Rodriguez, who exploded for a game-high 25 points.
"Last night against Selah, she seemed more relaxed," said Hinojosa of Rodriguez. "She was picking good shots."
The Lady Greyhounds were able to dictate the pace of the game early, despite holding on to a slim 17-14 lead at the end of the first quarter.
Grandview built on its slim lead with a quiet offensive showing in the second quarter, winning the period 9-6. Grandview led 26-20 at the break.
Hinojosa said Selah put together a series of runs at Grandview in the middle two quarters, but his team played solid on the defensive side of the ball not letting the Lady Vikings climbed back into the game.
Grandview opened the third quarter with a 9-8 showing and held off Selah in the final periods, which the Lady Vikings won 13-11.
Hinojosa said he was very pleased with the way his team played defensively. He said all of Selah's points came in the paint. Hinojosa added that Clark was the only real threat for Grandview.
"Clark was giving us problems all the way through," he said.
To try and counteract what Clark was doing, Hinojosa threw the Lady Vikings a Greyhound 2-3 zone defense.
"They couldn't handle that full-court press," said Hinojosa. "We got a number of turnovers. We got some easy baskets."
Hinojosa was also impressed with the play of his post players.
"Our posts are really picking it up," said Hinojosa. "They are fronting hard."
Grandview had a balance offensive attack. Ashley Luper dropped in 6 points for the Lady Greyhounds while teammate Danica Rodriguez added 5. Marisela Cornejo finished with 4 points for Grandview and Marisol Hinojosa added 3.
The Lady Greyhounds will start league play at Connell on Saturday, Jan. 8.