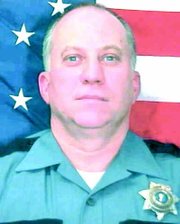 An award given to Sunnyside Police Department officers and ancillary staff who go the extra mile in the line of duty has been renamed the Steve Evans Memorial Award in honor of this year's recipient.
Evans, who died Oct. 30 while on a hunting trip, was named as the first recipient of the award named in his honor, said Mary Flores, the 2004 Dispatcher of the Year awardee.
Evans, a sergeant with the department for the past four years, had served with the Sunnyside Police Department for 27 years. During his career, he served as a patrolman, detective, and shift supervisor and was also active as a Sunnyside Fire Department volunteer and EMT.
In addition to receiving the Steve Evans Memorial, he was posthumously awarded the department's 2004 Supervisor of the Year honors.
"Steve was chosen for the honor by a vote of his co-workers," said Sgt. Kent Coffman, who was selected as this year's department "Officer of the Year."
Coffman, who has served on the Sunnyside Department for 13 years, said he was surprised to again be selected as the department's top officer.
"I received it last year, so I didn't think I'd get it again," he said.
Also honored were the department's outstanding dispatcher, reserve officer and jailer.
Mary Flores was named Dispatcher of the Year, while Larry Scherer, a department reserve officer, was named the recipient of the Eli O'Brien Memorial Award. Sunnyside Law and Justice Center Jailer Remedios Campos was awarded the Corrections Officer of the Year recognition.
The 2004 Sunnyside Police Department awards were presented during the department's annual Christmas party held Dec. 16.