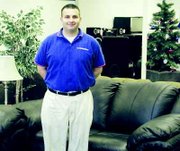 Life has been quite a bit different for Jose Mejia since he moved from East Los Angeles to Mabton 10 years ago with his family.
But Mejia, 25, hasn't regretted his family's move to Eastern Washington.
"There was always things to do in Los Angeles. It was hectic down there," said Mejia. "It is quiet (in Mabton). Nobody bothers you."
Mejia and his wife, Melissa, currently live in Mabton with their 5-year-old son, Nicholas. Mejia graduated from Mabton High School in 1999.
For the past three years, Mejia has worked as the account manager at Rent-A-Center.
Mejia said he enjoys his job at Rent-A-Center and the people he works with at the downtown Sunnyside store.
"It is like we are a family here," said Mejia. "We are all used to one another."
Besides the people he works with, Mejia said the other part of the job he enjoys is working with the customers.
"We have great customers," said Mejia.
The hardest part of his job is having to repossess equipment people purchased from the store after missing a couple of payments.
"Sometimes it is hard," said Mejia." But we are obligated to do it."
On the other side of the spectrum, the easiest part of his job is going on the road to deliver new purchases.
"That is easy," said Mejia. "It is a kick-back day. There is no stress. We just do our job."
Mejia said some people may be surprised by the long hours he works at Rent-A-Center. Mejia said he works five, 10-hour shifts each week. He said some people may also be surprised to learn the quota employees at the store have to meet in selling items.
Another part of his job that he enjoys is the variety of customers.
"Everybody is different," said Mejia. "You never get the same type of person."
When Mejia is not working, he enjoys spending time with his family and working on his car, a Honda Civic.
What Mejia also likes about the area is the weather.
"I like the four seasons," said Mejia. "You are never too hot or never too cold."
While Mabton doesn't compare to the hustle and bustle of East Los Angeles, Mejia said he wouldn't move for anything.
"For a small town, there are a lot of good things about the community," he smiled.