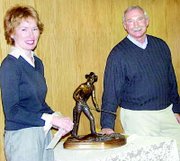 A bronze statue of a lanky cowboy will accompany former Sunnyside City Manager Dave Fonfara to his new post as city manager of Chelan.
The statute was presented to Fonfara and his wife, Peggy, during a farewell party held Saturday night at the Sunnyside United Methodist Church.
Fonfara, who was praised for his many civic and economic contributions to the city of Sunnyside, was presented the statue in recognition of nearly 24 years of service to the community.
Fonfara, who came to Sunnyside in 1980 to become the city's first parks and recreation director, also served as the community's first director of Sunnyside's Inc., the local economic development agency.
While serving as the agency's director, he is credited with encouraging such companies as Darigold and Valley Manufactured Housing to construct plants in Sunnyside.
Among other projects on which Fonfara played a major role is the completion of Sunnyside's Centennial park and pathway, as well as the Sunnyside Foundation statue project.
Fonfara resigned as Sunnyside's city manager in early January to become the city manager of the popular Central Washington resort town.
Hosted by members of Sunnyside Inc., Saturday's reception was attended by more than 70 people, who shared anecdotes about and praises for the long-time Sunnyside couple.
Dr. Randy Schuler, who shared master of ceremony duties with Greg Smith, reminded the couple they left once before for California in the late 1980s, only to return a few years later.
"We're hoping that happens again," he said.
The Sunnyside Inc. board of directors presented the Fonfaras with the table top bronze statue of pioneer cattleman Ren Ferrell, one of the first statues to be placed in Sunnyside.
. Julia Hart can be contacted at
(509) 837-4500, or you can e-mail her at jhart@eaglenewspapers.com