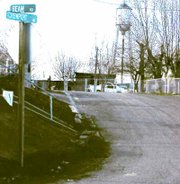 Next month, work is set to begin on improvements to the Crewport potable water system, which delivers drinking water to the residents of the small community located north of Granger.
Joe Stump, Yakima County Public Works utility manager, said improvements set to be made to the water system include replacing the existing pump house, adding all new controls, putting in a new pump and creating a back-up well.
Stump said improvements are also scheduled to be made to the community's water storage system. These improvements are to include the replacement of the existing elevated tank with a new standpipe or tank.
Contracts were awarded by Yakima County commissioners for work on the two improvements projects during Tuesday afternoon's meeting in Yakima last week.
A contract for work on the pump house improvements was awarded to Morrison Construction Services. The contract is for $134,154, which is more than $20,000 below the engineer's estimate for the project. The Richland construction firm was one of six companies that submitted bids for the project.
Six bids were also submitted to the county for the Crewport storage improvements. Ultimately, the commissioners awarded the contract to Apollo Inc. of Kennewick for a cost of $384,801. Although that was the low bid, it is still more than $35,000 above the engineer's estimated cost for the project.
Stump said funding for the water system improvements is coming from both the state and federal governments.
Stump said work on the two improvement projects is set to begin in February and be completed by the end of August.
According to Stump, there is another project associated with the Crewport water improvements that has yet to go to bid, which is the replacement of all of the water lines in the system.
"It will be a completely new system with exception of the existing wells," Stump said.
He said work on the third leg of the project should be completed sometime this summer as well.
. Elena Olmstead can be contacted at (509) 837-4500, or e-mail her at eolmstead@eaglenewspapers.com