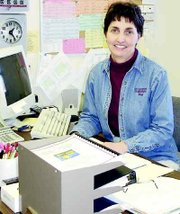 Answering the phone and making sure things get done in the office at Sunnyside Christian Elementary School are two duties that make up the tip of the iceberg for school secretary Ellen Dekker and her numerous responsibilities.
For the past 12 years, Dekker has found herself taking care of everything from ordering supplies for the school to caring for sick children. Dekker joked that she recently went back to look at her job description and decided that 90 percent of what she does falls under the category of others.
"I do whatever has to be done that isn't teaching or administrative," Dekker said.
Working at Sunnyside Christian Elementary School is something that started for Dekker more than a decade ago, before her youngest son Ben, now 16, had started kindergarten.
For Dekker, working at the school is a little different than what she did before she had children. Before she and her husband, John, decided to begin a family, Dekker worked as a certified medical assistant.
However, when the secretarial position at the elementary school opened up Dekker knew the time was right to jump back into the working world.
"I kind of fell into the job and it worked out perfectly," Dekker said.
She said her combination of experience, including her work in the medical field, has proven useful during her time at the school. Dekker said she wears many hats between the hours of 8 a.m. and 4 p.m., including that of receptionist, secretary and school nurse. During the day Dekker said she takes care of attendance, is the first contact when someone is interested in sending their children to the private school, orders supplies for the entire school, and writes the school's newsletter, all while maintaining order in the school office.
Despite all of the different duties Dekker can take on in the course of a day, she said her favorite part of the job remains the approximately 200 students who go to school at Sunnyside Christian Elementary School.
"You never know what will happen next with them, or what they'll say," she said.
Dekker said, being an organized person, she also finds that she enjoys the part of her job that includes ensuring that things run smoothly behind the scenes, including different fund-raisers and other activities at the school.
. Elena Olmstead can be contacted at (509) 837-4500, or e-mail her at eolmstead@eaglenewspapers.com