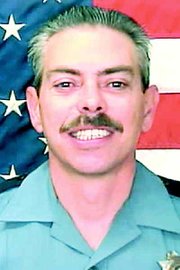 A Sunnyside native and 18-year police officer veteran has been named to the detective's division of the Sunnyside Police Department.
Jim Orth will begin his duties as a detective Tuesday.
Orth is no stranger to the detective's division. He has spent almost half of his time as a police officer working as a detective. Orth was the Sunnyside police officer assigned to the Law Enforcement Against Drugs (LEAD) task force, a job he held for five years. He also served as a warrant officer and investigated drug and general crimes.
"I wanted to make a dent in the drug world," said Orth of his time investigating drug crimes.
Orth started his career in Benton City 18 years ago. He got a job with the Sunnyside Police Department in 1989.
"The reason I came to Sunnyside was I was born and raised here and my parents lived here," said Orth.
Before Orth became a police officer he was working at Zillah area dairy, but a friend convinced him to go on a police ride-along in Granger.
"What got me hooked was the first day I was riding with the chief and we got in a pursuit with a motorcycle," said Orth. "I was hooked."
Interested in the field he became a reserve officer in Granger for about a year before he was hired by Benton City. He became a police officer for Sunnyside in 1989.
With an opening in the detective's division, which currently has two officers investigating crimes, Orth decided to apply. As a detective he will be working Monday through Friday and be on call. "You can get called out in the middle of the night or at family functions, but that's the trade-off," said Orth.
Hiring a detective with past experience will save the city money, according to Orth.
"What this does, since I already have experience and training, is it cuts the six months needed to train someone to be a detective," said Orth. "This is going to save the department a lot of time and money."
Orth will be investigating a variety of crimes in the community as the new detective, under Det. Sgt. Jose Trevino.
He said one area he anticipates spending some time investigating is the graffiti in town.
"We've got some kids out there doing graffiti and that needs to be stopped," he said.
Orth has been married to his wife Frances for 25 years. The couple has two adult children, Tiffany, 24, and T.J., 21.
He is an avid hunter and a member of Grandview's Wine Country Rides chapter of Backcountry Horsemen of Washington.
. Melissa Browning can be contacted at (509) 837-4500, or e-mail mbrowning@eaglenewspapers.com