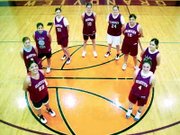 GRANDVIEW - Working as one. Standing together through good times and bad and trusting in one another just a few of the reasons the Grandview High School girls basketball team is having one of its best seasons to date under first year head coach Adolfo Hinojosa. While the Grandview girls basketball program has had its problems over the last few years, there is no one who can deny that the Lady Greyhounds are a team, united as one this season.
"I enjoy working with them," said Hinojosa. "They want the same kind of things I want."
One part of coaching the Lady Greyhounds he enjoys is that the team is very competitive.
"They want to win," said Hinojosa.
A part of the program that Hinojosa feels this team understands is that they are laying the foundation for the future of the Grandview girls basketball program. Hinojosa said the team is taking a firm stand in developing the future for Lady Greyhound basketball.
Regardless of where the season leads Grandview, Hinojosa is hoping his team takes with them new abilities they can utilize for life, such as class, character and the ability to realize they can obtain their goals.
Jessica Rodriguez, 17, has been playing on varsity for three years. She agrees the team's attitude is one of the reasons for Grandview's surprising success this year.
"We are positive," said Rodriguez. "We have a good bond together."
Sophomore Tonhya Wysong, 15, has only been on varsity for two years, but said what makes the Lady Greyhounds so successful is their ability to come together in the best and worst of times.
Coming into this year's Mid-Valley League season both Rodriguez and Wysong felt Grandview was going to have a good year. The Lady Greyhounds won two of the three summer tournaments they played in.
Both also attribute the turn-around in the Grandview girls program, which only won four Mid-Valley League games last year, compared with 10 this season, to Hinojosa.
"He is full of energy," said Rodriguez. "He is more of a friend than a coach. When we play, though, he is intense."
Wysong added Hinojosa never gives up on the team, even in bad times.
Meghan Waddle, 17, and Keitha Robertson, 18, are two of the senior captains on this year's team that have been through the good and bad times with Lady Greyhound basketball. Both Grandview players have seen varsity time each of their four years.
Robertson said the one part that makes this year's team unique is its ability to stay in games, despite having no height. Waddle elaborated by saying Grandview is unique because of the intensity it shows during a contest.
"We are really in your face the whole game," said Waddle.
Waddle added that she feels Grandview is a special team because the Lady Greyhounds view themselves as one on the court. Waddle said there are several different players capable of carrying the team at any given time. She said no one ever gets upset with one another if somebody has a good night while someone else doesn't. But there is also a less serious side to the Lady Greyhounds that gives the team that right balance, said Waddle.
"We have a lot of fun together," said Waddle. "Part of the fun is messing around with each other."
Much like her teammates, Robertson attributes a majority of the change in the program to the Lady Greyhounds' new coach.
"We never had the right leader before," said Robertson referring to Hinojosa. "He is just so cool."
"He understands us," added Waddle. "He turns it on when we need to have it turned on, but he doesn't try to push you when you can't be pushed."
Waddle said the game that really stands out in her mind for Grandview is the first time the Lady Greyhounds played Prosser. Waddle said Grandview went into the game as underdogs, but very much rose to the occasion, winning by 21 points.
"We knew we needed to show people we could dominate them," added Robertson.
While Waddle entered the season with State tournament aspirations, Robertson was a bit more unsure about this year's campaign.
"I really didn't know what our chances would be," admitted Robertson. "But I think we have really surprised a lot of teams."
Robertson added that the community has really taken to supporting the Grandview girls program, which makes her take a lot of pride as a Lady Greyhound. Both she and Waddle feel since the community is so active is supporting youth sports that is one of the reasons why Grandview High School has a dominating overall athletic program.
"People recognize Grandview," said Robertson.
Jessica Arteaga, 17, another of the Lady Greyhounds' senior leaders, said the biggest difference this season is that it is fun to be part of the girls basketball program.
"I want to be here," said Arteaga. "We want to work hard because we enjoy it. We have a really good team with a lot of talent."
Arteaga said the strength of the team is its individuals who make-up the whole.
"Every girl is strong in their own way," said Arteaga. "We can handle things."
Like many of her teammates, Arteaga has one goal this season and that is a trip to the 3A State tournament in Tacoma.
"I want to end this season with a bang," said Arteaga. "It would be nice to finish (my) high school (career) off like that."
Arteaga also takes a lot of pride in representing Grandview, as a Lady Greyhound.
"It just means being a part of something special," said Arteaga. "I consider it a great privilege to be a part of these girls."
Danelle Cowan, 16, marks her third year on the varsity. The Lady Greyhound junior would also like to make a trip to the State tournament, following the steps of the Grandview volleyball team, where Cowan excelled this past season.
"We did it in volleyball," said Cowan. "There is no reason we can't go to State here."
The chemistry is what makes the Grandview girls team unique this season, said Cowan.
"I have been with a lot of these girls for three years," said Cowan. "I like how we have developed together."
Cowan also said what works for Grandview is each player knows what to expect from the other.
Cowan said early in the season the Lady Greyhounds had some problems because they weren't focused on the same goal. She said the team has really started to gel with one another as the season progressed.
The Lady Greyhounds, Cowan feels, also want to do their best because they take pride in the community.
"I am proud to be a Lady Greyhound," said Cowan. "When I put on my jersey I feel like I am representing my school, my community and I am really proud of that."
Hinojosa said his first season at the helm of the Lady Greyhound program has been an enjoyable one.
"It has been a good first year," said Hinojosa. " We are learning how to communicate with each other. We have learned how to trust each other. That is why we are playing at the level we are now."
. Mike Kantman can be contacted at (509) 837-4500, or email him at mkantman@eaglenewspapers.com