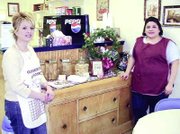 GRANDVIEW - They say imitation is the sincerest form of flattery. If that is the case, Ruby Ruiz and Celina Valdez are well on their way to a successful career in the food industry.
The Grandview businesswomen have opened the Grandview Lunchbox, 104 W. Second St., filling it with photographs of family and items of furniture which filled their home as children.
If the decorations filling the Grandview Lunchbox seems familiar, it is because Ruiz and Valdez have taken as their cafe model a popular Sunnyside meeting place. The sisters said they have always enjoyed their lunches at Gladys Graham's friendly Cactus Juice Cafe in Sunnyside.
"So when we decided to open our own cafe we knew we wanted to model our businesses after The Cactus Juice," explained Valdez.
"We wanted to create a restaurant where families could dine in comfort, as well as a place where downtown business people could take a mid-day break and relax," explained Valdez.
A cozy, family-oriented ambiance is what they were after and so far, the Grandview community has embraced the young women's deli-style cafe and its menu. Fresh homemade soups, salads and sandwiches, as well as daily lunch specials fill the Lunchbox's menu. Open Monday through Friday from 8:30 a.m. until 4:30 p.m., breakfast foods and pastries are also included on the menu, along with the ever popular lattes and Italian sodas.
Taking Graham's relaxed and charming decorating efforts as their inspiration, Ruiz and Valdez are finding an appreciative Grandview clientele. Open since mid-November 2003, the women have hosted a number of large luncheons, including various women's groups to a Grandview Chamber of Commerce luncheon-meeting.
One of the women's most exciting days came just last month, when the Yakima Valley was hit by its worst snowstorm in years. When heavy snowfall closed area schools and kept a lot of people home, Ruiz made it to the cafe, only to find that her partner was stuck at home in her driveway.
"I finally got my driveway shoveled out by 11 a.m., but by then Ruby was already swamped with a hungry lunch crowd," Valdez recalled.
A fellow Second Street businesswoman closed the doors at her hair salon to lend Ruiz a hand.
"I don't think I could have managed without her," Ruiz said.
"Everyone downtown wanted lunch with us that day," she smiled.
"The community had been very supportive and so has our family," Valdez said. Initially, though, the women's mother was skeptical of their choice of menu. "She was disappointed we're offering foods which didn't reflect our heritage," Valdez explained.
"But the community doesn't need another hamburger stand or Mexican restaurant. We wanted to do something different," she explained.
But in deference to their mother, Friday's lunch special is a Mexican dish, which mom helps fix, she smiled.
"She now our biggest fan."
. Julia Hart can be contacted at
(509) 837-4500, or you can e-mail her at jhart@eaglenewspapers.com