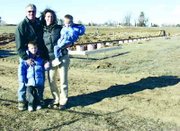 PROSSER - This past fall as Teresa and Lou Gannon, owners of Yellow Rose Nursery, packed up for the winter, they were also packing up for good in Mabton.
"It was hard this fall when we were packing up," said Teresa. "At this point it's pretty barren."
The long-time nursery owners have closed their Mabton operation in order to expand their business.
"We actually looked at all three cities, Sunnyside, Grandview and Prosser, and this is what we found," she said of the 10-acre parcel in the Port of Benton in Prosser, located at 600 Merlot Drive. The property had the infrastructure needed by the Gannons for the nursery. The couple also found that the property had additional bonuses, including freeway visibility and room for expansion.
According to Teresa, the goal is to eventually have the entire 10 acres landscaped with several display gardens. She said there will be formal, oriental, naturalized and Mediterranean gardens on display when the landscaping is completed. The will also have three major waterfalls on the property, which is Lou's specialty. A large waterfall will provide a dramatic entry. Other waterfalls will be incorporated into the different garden designs. The nursery will also be open year round as a part of the expansion.
"We'll be open for Halloween and Christmas displays," said Teresa.
The purchase of the port property has allowed the Gannons to dream big as they grow their business.
"Our dream has always been to have a Butchart Gardens type nursery and have retail sales," said Teresa. "People don't even have to buy anything to enjoy coming. We want it to be a tourist attraction."
She added that she believes the nursery will fit right in with the wine tourism theme.
"People love to stop at gardens," she said.
Whether or not people buy items from the Gannons, they want to have their nursery open to the public to walk the grounds and find ideas for their yards at home.
"People don't always want a landscaper to do everything," she said.
The first phase of the project is currently under construction. The phase includes the construction of two 35-foot by 120-foot greenhouses, which are being built by Teresa's father, Arie DeVos.
"None of this would have been possible without him," she said, adding that Ivan Westenberg has also been a great help.
The greenhouses are expected to be completed within two weeks. In the first phase of the project, five of the 10 acres will be developed.
The cottages DeVos builds as owner of Sunshine Valley Cottages will also be on display at Yellow Rose Nursery.
Gannon said that they will be ready to open their doors March 1, although all of the work will most likely not be completed.
"We definitely need to be up for the spring," she said. "I don't want to lose a season."
As a part of the second phase, which Gannon anticipates will begin in three years, Yellow Rose Nursery will have grounds for weddings and an event center.
Besides being unable to purchase the land where the Mabton nursery was located and a need to expand, Gannon said when the highway bridge near Mabton went out nearly a year ago there were some real questions as to how their business could continue to operate in Mabton, where the couple still lives.
Teresa said they had thought of expanding, but the downed bridge pushed them to begin looking for property.
"We'll have the same things we've had every year, but more quantity," she said.
"We're going to have roses right off the bat," she said.
She said they also plan to have specialty trees, fruit trees, grape plants and evergreen trees as well as bulk bark and rock, as they have had in the past.
She plans to continue to design custom baskets for customers who bring in their own planters and said eventually, she hopes to dedicate an entire greenhouse to her custom work.
Yellow Rose Nursery was started in Mabton 16 years ago by Lou Gannon. A Mabton native, Gannon attended Washington State University to study landscape architecture.
His wife joined him in the venture to take on the retail sales portion as he focused on landscaping.
Over the years the business has developed and a crew of employees have grown.
"Most of our employees are following us here," said Gannon.
"This is our passion and for them it is their passion," she said.
. Melissa Browning can be contacted at (509) 837-4500, or e-mail mbrowning@eaglenewspapers.com