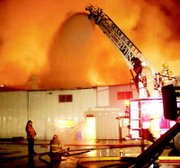 Yakima Valley Highway and Highway 241 were closed down this morning as Sunnyside firefighters battled a blaze at the Andrus and Roberts Produce Company building.
Fire officials ran fire hose from hydrants across both roads to the burning building.
As of late this morning, firefighters had pumped more than 200,000 gallons of water on the fire, which continued to burn.
Just minutes before 5 a.m. this morning, Sunnyside fire officials were called out to extinguish a fire at one of the Andrus and Roberts Produce Company buildings located on Wanita Road.
The fire had already broken through the roof of the building by the time fire officials arrived, according to Sunnyside Fire Chief Jim Stanton.
"It was well involved when we were notified," said Stanton, who was still on scene late this morning.
He estimated that fire personnel would be on scene at least until noon, extinguishing flames that popped up. Firefighters were also allowing cardboard products inside the metal storage building to burn, according to Stanton.
"The building is not safe to go into," he said.
He said it will be several days before the cause of the fire can be determined.
Stanton said the building had a machine shop, a cold storage area for apples and packing supplies.
One of the challenges to the fire was water.
"We were a little short on water," said Stanton. "We were flowing, at one point, 2,500 gallons a minute."
He said with spacing and distance they were trying to pump too much water from one hydrant.
"A couple more hydrants would have been helpful," he added.
Also a challenge has been fighting the fire in a metal building. Stanton explained that pieces of the metal roof from the building, which is estimated to be 100x300 feet in size fell in and the fire continued to burn under the roofing. He added the firefighters had problems extinguishing the blaze under the roofing.
Stanton said the department was also concerned about the ammonia system in the building.
"We had to be awfully careful," he said.
The Sunnyside Fire Department has initially estimated the loss between $800,000 and $1 million.
Stanton said there will be additional water damage to the nearby buildings. Water used to extinguish the fire pooled and backed into the buildings, causing damage, he said.
"It was unforeseen and there was nothing we could do about it," he said.
Late this morning the biggest concern was returning the electricity to the other buildings in the Andrus and Roberts complex, due to cold storage units in the other buildings.
"We've got an electrician out here and we're cutting the building loose," said Stanton. "We're trying to get PP&L to reconnect the other buildings."
The Sunnyside Fire Department was assisted by Yakima County Fire District #5 and the Grandview Fire Department.
. Melissa Browning can be contacted at (509) 837-4500, or e-mail mbrowning@eaglenewspapers.com