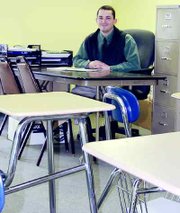 Going from math class to English to reading may sound like just another day on a high school campus, but for students attending the Lower Valley Day Reporting program going to class isn't an option, it's a requirement.
Students taking part in the program, which started in Sunnyside Jan. 26, are typically referred into day reporting by their parole or probation officer, or through a court order or referral.
The Lower Valley classroom, which is set up in the OIC building along Railroad Avenue, is also a little different from a traditional classroom in the staff members it employs. The teacher for the 16 enrolled students, who come from as far away as Toppenish and Grandview, is Jason Moyer, and the staff also includes Vianca Herrera, a juvenile detention officer. A case worker is currently being located for the classroom through Central Washington Comprehensive Mental Health.
Moyer said the idea behind the program, which used to be run solely out of Yakima, is to give students a place that gets them ready to be transitioned back into a traditional educational setting, be it an alternative high school or another Lower Valley high school.
"Mostly we try to keep it as a regular class day," Moyer said.
He noted that everyday he puts a schedule on the board, which sets the routine for the entire school day, which runs from 8:30 a.m. to 2 p.m. Moyer said different subjects ranging from English to math are covered each day, making the day reporting classroom much like any other classroom in the Valley.
"They work hard and stay on task," Moyer said of the students taking part in the program.
Herrera said the important thing about having a schedule and keeping things regulated is that it gets the students, who range in age from 14 to 18, ready for the challenge of heading back to school.
Moyer said there are two key things he tries to stress to his students, one is the day-to-day routine of going to school and the other is the routine and schedule that comes with the average school day.
"We want to help them," Moyer said, noting that when students leave the day reporting program they should be better equipped to make decisions regarding the next step in their education. "We want them to leave here a little better off than they came," he added.
Moyer said students who are attending classes through the day reporting program aren't just learning the importance of getting to school on time and staying on task. They are also earning credits toward their high school diploma or GED.
"Everything they do here is for credits," Moyer said.
He added that although students are all working on the same subject at the same time, not every student is working on the same set of math problems or reading questions. Moyer said the students are able to work at their own pace. He noted that in subjects like math and reading, the students do packet work, which is one way students are able to earn high school credits.
Being able to work at their own speed is an important part of the day reporting program because the students aren't necessarily in the program for extended periods of time. Moyer said most of the students are in the program for quarter or semester periods.
Another challenge this brings is introducing a new student to the day reporting classroom. Herrera explained that when a new student is referred to the program, they are told what the expectations are of them, then the student will typically join the classroom the following Monday. Moyer noted that the Lower Valley Day Reporting classroom can take a maximum of 20 students.
Moyer said since classes began less than two weeks ago, the students are already showing a lot of improvement. He said the first few days seemed to be a feeling out period. However, now students know what the expectations are and what is required of them.
Moyer said being in a smaller classroom environment, like the one day reporting offers, means students' individual needs are being met on a daily basis. He noted that when a case manager is hired for the classroom, students will have even more individual attention available to them. He said the case manager will be there to listen to any problems or issues a student is experiencing.
For Moyer, who earned his degree at Western Washington University, working in an alternative classroom setting is something he had always been interested in.
Herrera said being a juvenile detention officer and working in a classroom gives her a chance to work more closely with the students and their families.
"There's more of an opportunity to assist," Herrera said.
The Lower Valley Day Reporting Program is something that took several months to set up in Sunnyside, and now that it is officially up and running there are a variety of different agencies that are helping make the classroom possible.
"So far the collaboration has worked great," Moyer said.
Partners in the day reporting program include the Sunnyside School District, Yakima Juvenile Courts, Educational Service District 105, the Sunnyside Police Department and Central Washington Comprehensive Mental Health.
. Elena Olmstead can be contacted at (509) 837-4500, or e-mail her at eolmstead@eaglenewspapers.com