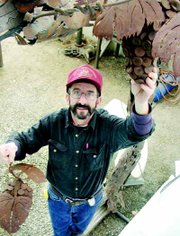 Thinking back to his childhood, when he was driving tractor for his father discing hops and grapes, Kerry Desmarais remembers thinking that the rough bark of the grape vines reaching out of the ground and the curved leaves of the plants stretched along the wires appeared to be made of steel.
Years later, Desmarais has taken that vision and made it come to life in a 10-foot tall arbor he calls "The Concord."
When first looking at it, some think Desmarais' work is made of wood, but at closer inspection it is easy to see the thousands of cuts made into the steel and the rich patina that is constantly changing due to a process Desmarais uses to age the metal.
"There's a process I use to make the metal look like it just came out of the ocean," said Desmarais.
As the art ages in the elements over time the rustic finish will continue to deepen.
"It will only get better," he said.
The mammoth undertaking took Desmarais six months to complete, including the time he took to study living grape plants.
A one-of-a-kind piece of art, Desmarais calls it "living art" since the different pieces move.
"It will swing when the wind blows," he said. "I was able to take a piece of metal and make it look like live grapes."
The three-dimensional artwork is unique and one of a kind. "From upstairs you can look down on it and look at the leaves," said Desmarais, explaining that the arbor has a different feel from every angle.
His latest achievement is the next step in his art, which started about five years ago when he made simple cuts in sheet metal to show a local farmer his design for a piece of farm machinery.
Farmers have always inspired Desmarais. It was a grape farmer who challenged him to attempt to make the arbor.
"He wanted me to make one of my lights and I put this clump of grapes on top of it," said Desmarais.
Seeing his work, the farmer asked him to create steel grape arbor to hold signs for his farm.
From there Desmarais decided to make an arbor on a grander scale. He is now planning his next project, which will be even larger.
"I'm hoping people will challenge me and tell what they want to see," said Desmarais.
As he started working on the grape arbor, Desmarais went to local vineyards to find inspiration in nature.
He took a compilation of several varieties of Concord grapes to create the leaves for the sculpture.
Each leaf is hand-crafted, cut from steel with a plasma cutter and hammered until curved to resemble leaves. Every leaf is different in size and unique in the cuts that create the light-catching veins in the leaves.
Desmarais also found it important to make the arbor appear to be growing out of the ground. The 11-foot wide free-standing sculpture is made to be planted in the ground and is wide enough to go over an 11-foot sidewalk.
"I believe God used my hands to create this," said Desmarais. "Before I started I asked him, what is it I can make that nobody else has and that people would like. This is what I came up with."
. Melissa Browning can be contacted at (509) 837-4500, or e-mail mbrowning@eaglenewspapers.com