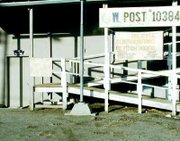 MABTON - Tucked away in the basement of the Mabton Veterans of Foreign Wars building is the Mabton Food Bank. The sign at the stairs leading to the food bank is faded, but those who depend on the service know what is found in the basement of the building located on B Street.
The food bank has been sharing the building with the Alcoholics Anonymous group and a church since the VFW lost its charter.
"They (the church, VFW and Alcoholics Anonymous) don't have any money either," said Vera Zavala, who has been running the food bank for the past three years.
Currently, the food bank only has two regular volunteers, other than Zavala, to help prepare and hand out 150 bags of food every second and fourth Tuesday of the month. She said it is a big job to bag all of the groceries for those in need. Those served include homebound senior citizens who don't have family that can pick up food for them, said Zavala.
"We serve whoever comes in or is in need," said Zavala.
In the past, volunteers have assisted in unloading groceries from the Northwest Harvest trucks, where the Mabton Food Bank gets most of its food.
Zavala said that students from Focus High School have helped unload the trucks when they can, but the truck doesn't always come at the same time.
"It's been like this for three or four years," said Zavala. "We've even put up sign-up sheets asking for help, but haven't gotten any response."
Besides volunteer help on an on-going basis, Zavala said the food bank also needs those willing to assist in cleaning the building.
"It needs a real good cleaning," said Zavala. "We've painted the cement floor several times, but it needs it again."
Although Zavala, who's been working with the food bank for 30 years, has several wishes for the facility, her biggest wish is that someone with money would step in and fix the building.
"We can get by, but it needs a lot of work," she added.
. Melissa Browning can be contacted at (509) 837-4500, or e-mail mbrowning@eaglenewspapers.com