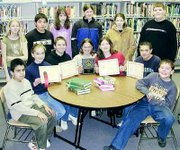 For the past several months a group of 15 Harrison Middle School students has been working under the guidance of teachers Brianne Carmody and Thalyne Carey to learn the ins and outs of math competitions.
All of their training led up to the Mid-Valley Math Competition, held Dec. 28 at Grandview Middle School, where the Sunnyside seventh grade team took second place honors.
Carey explained that in a math competition students are divided up into teams of four-people each. For Sunnyside, that meant there were two seventh grade teams and two eighth grade teams from HMS competing in Grandview. The teams then work together to compete in six different categories, including arithmetic, algebra, geometry and mental math.
Carey said each of the teams is given grade-level tests, so seventh grade students aren't taking the same test as eight grade students. However, all of the teams are working on a certain part of the test at the same time in the same room.
The math competition was held after school, beginning at 3:30 p.m., and finished with the awards ceremony at 7:30 p.m.
Carey, the eighth grade math team coach, said she started working with her students perparing them for the December competition in October. In order to get the students ready she gave them large packets of math problems to work through. Carmody, the seventh grade math team coach, said she started working with members of her team just after winter break.
"They worked on their own," Carey said, noting that several members of the eighth grade team would come into her room during their lunch period to work on math problems.
Carmody said the math competition is something the students seemed to be very excited about.
"They were all smiles when I saw them on Friday (after the competition)," Carmody said.
. Elena Olmstead can be contacted at (509) 837-4500, or e-mail her at eolmstead@eaglenewspapers.com