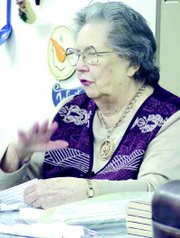 The Sunnyside Kiwanis Club heard first-hand accounts of pioneer life on the Roza, Thursday morning as Grandview resident and author Barbara Skinner shared about her life settling 80 acres of land north of Grandview.
Skinner, who wrote the book, "The Sandpile," and her husband Carl, came to the Yakima Valley in 1948 with their 18-month-old daughter and began settling the land. The came in a trailer house with all they needed to be self-sufficient.
The Skinners were selected in a government lottery that gave property to military veterans. Carl Skinner was selected as #20 on the alternate lottery list, she said. After rejecting a canyon north of Prosser, the couple settled on a parcel near Grandview that was completely unsettled and covered in sagebrush.
A town girl from Dover, Del., life amongst the blowing sand was different than she was used to.
Skinner told Kiwanians that her husband soon made a covered pit to keep canned foods and cured meats.
She said the family even brought a refrigerator and stove, but they couldn't be used because there wasn't any electricity.
The family ate outdoors and she said when a dust devil would flair up they all covered the food, "...to minimize the crunch of sand."
The young family lived in the trailer for one and a half years before they moved into the home Carl Skinner was building. She said they moved it before it was even complete. There wasn't running water at the Skinner home for three years.
Living on the homestead, Barbara Skinner made bread and churned butter. The family also had geese and calves.
At one point Skinner's husband brought home special pigs from the experiment station, she said.
"Soon we had 500 pigs," she added.
With the homestead program continuing, the government was looking to give away additional property and gave the Skinners an additional 120 acres, she said.
The Skinners started out farming wheat and potatoes, but the sand was hard on the crops. Eventually, the Skinners planted an apple and pear orchard.
In 1950, the Skinners took out three loans which totaled $5,000, for water facility improvement. The money was used for irrigation pipelines, farm implements and operating expenses, said Skinner.
In 1953, the family had telephone service, mail delivery and better roads.
In 1956, the Skinners' second child, David, was born. Skinner said it was also the year her husband opened Eastway laundry mat and dry-cleaning in Sunnyside.
Skinner said life was different then.
"We got aquatinted with our neighbors," she said. "Everybody who came to the house always stayed for a meal."
She said she doesn't regret homesteading in the sagebrush.
Skinner still lives in the house her husband built.
. Melissa Browning can be contacted at (509) 837-4500, or e-mail mbrowning@eaglenewspapers.com