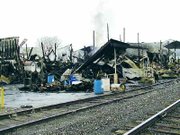 Small flare-ups are continuously shooting up at the razed cold storage and packing building at the Andrus and Robert Produce Company facility on Wanita Road in Sunnyside.
A fire engine has been left on scene since the fire broke out early Wednesday morning and has been manned as needed to control the flares, which are due to materials drying underneath sheet metal and reigniting, according to Sunnyside Fire Chief Jim Stanton.
"We're going to be going out there for quite a while," said Stanton. "We have a lot of product that's under the tin."
He explained that large pallets of plastic bags were in the building that was destroyed by fire. The building also contained two cold rooms, a small packing room, a shop, a scale and storage room for the company. There was also some produce in the cold rooms, according to a press release sent out by the company Thursday.
According to Sunnyside Fire Department Battalion Chief Lloyd Hazzard, investigators have located the area where the fire started. He said the blaze is not suspicious in nature.
"We'll know more after Monday when an electrical engineer will be here to investigate," said Hazzard. He said the estimated cost of damages remain at about $1 million.
About 50 firefighters from the Sunnyside Fire Department, Yakima County Fire District #5 and the Grandview Fire Department were on scene to battle the blaze and keep it from spreading to nearby buildings.
Chad Roberts of Andrus and Roberts Produce Company was hoping the company would be resuming full operations by today (Friday,) but now it is believed employees will return to work on Monday.
"We still have fire investigators here," he said.
Employees will be losing three days of work, he added.
After employees return to work, the fire shouldn't affect their working hours, said Roberts. "We're packing apples now and that building was used for potatoes." He added that growers won't be affected by the blaze.
"We didn't burn to the ground," he said. We're still in business. As soon as the dust settles we'll get a plan and rebuild."