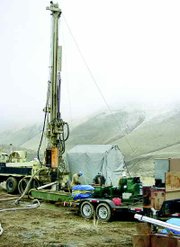 Bureau of Reclamation workers have started the second phase of drilling as part of a federal feasibility study for the Black Rock Creek dam and reservoir.
The dam would create additional water storage, which would benefit the Yakima River Basin.
"In this next phase of drilling, which will last about a month depending on the weather, Reclamation drill crews will drill a pilot hole approximately 400 feet deep," said Reclamation Geologist Dick Link. "The core samples collected from this deep hole will help us evaluate the geologic character and engineering properties of the foundation material beneath this potential dam site."
Drilling of the 4-inch diameter hole began Jan. 29. One drill rig is currently at the site, which is located about 18 miles north of Sunnyside.
According to Link, at the conclusion of this stage of drilling another stage will begin.
"We will drill another 400-foot hole to conduct tests which will allow us to evaluate the amount of seepage that might occur through the dam foundation. The water test data will also be used to evaluate the amount of leakage between the different ground water aquifers present at the site," he explained.
The activity is being conducted as part of the Bureaur's Yakima River Basin Water Storage feasibility study authorized by Congress a year ago, in February 2003.
The geological investigation is scheduled to be completed by late spring 2004 and the results will be incorporated into Reclamation's fast-track assessment, which will be completed in July 2004.
The Bureau of Reclamation is the largest wholesale water supplier and the second largest producer of hydroelectric power in the United States. The entity has operations and facilities in 17 Western states. It also provides flood control, recreation and fish and wildlife benefits.
. Melissa Browning can be contacted at (509) 837-4500, or e-mail mbrowning@eaglenewspapers.com