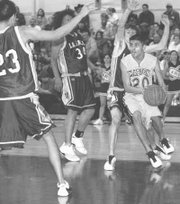 MABTON - The Mabton High School boys basketball team wrapped up the No. 2 seed in the Greater Columbia 'B' League's northern division with a pair of weekend wins. But the Vikings have one more game to play before reaching the postseason and it isn't going to be an easy one.
The Vikings cinched the No. 2 seed in the league with a 35-34 win over LaSalle at home Friday night. Mabton then followed up with a 74-52 victory over Yakama Tribal on Saturday.
Mabton (10-2, 13-6) will travel to Sunnyside Christian this Tuesday night for a rematch with the Knights. The Vikings will be looking to gain some momentum for next week's postseason tournament while the Knights are battling to stay ahead of LaSalle for the third and final playoff spot. LaSalle and Sunnyside Christian will meet Friday night in Sunnyside with the league's No. 3 seed into the postseason being on the line.
"Even though we are No. 2, we still have a lot of effect on the playoffs," said Mabton Coach Brock Ledgerwood. "We are just going to have to come ready to play. We know Sunnyside Christian is going to be ready because they need the win."
Friday night's victory was marred by a poor shooting effort from the Vikings. Mabton finally won the game when Frankie Mariscal hit 1-of-2 free throws with 17 seconds left. LaSalle had a bucket in the closing moments of the game, but it was waved off because it came after the buzzer sounded.
The Lightning led at the end of the first half 21-13. But the Vikings rebounded with a 22-13 second half, sparked by A.J. Valencia's 12 points in the last two periods.
Mabton's problems can be attributed to LaSalle's defense and the Vikings' shooting. Mabton shot just 23 percent from the field.
LaSalle outscored Mabton 12-4 in the second period to give the Lightning the early halftime lead.
"Their defense got to us," said Ledgerwood. "We didn't move the ball as well as we should have against their zone."
LaSalle had the lead to 10 points at one point in the second quarter, which Mabton cut down to 5. LaSalle's Anthony Wade, who a game-high 16 points, hit a 3-pointer at the buzzer to account for the eight-point halftime deficit.
Ledgerwood said in the second half his team just started playing defense. Ledgerwood said the defensive efforts of the Vikings helped feed the offense for Mabton.
The defense letdowns Mabton had Friday night carried over into Saturday against Yakama Tribal. Mabton had nice opening and closing quarters, but let Tribal hang around in the middle two periods.
Andy Rodriguez had a game-high nine assists. Ledgerwood said Tribal ran a 2-3 zone that allowed Rodriguez to dish off the assists.
Alex Zavala led the Vikings in scoring with 20 points.
. Mike Kantman can be contacted at (509) 837-4500, or email him at mkantman@eaglenewspapers.com