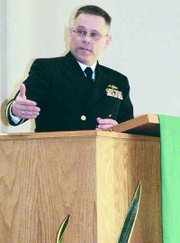 by Elena Olmstead
Although Sunnyside United Methodist Church Pastor Randy Quinn has been a member of the Navy and the Reserves for 22 years, serving 15 years as a chaplain, this week he will leave for his first overseas tour of duty.
Quinn will be spending the next two weeks serving his time as a Navy reserve chaplain with the Military Sealift Command in Bahrain, Saudi Arabia. Quinn explained that it wasn't until just several weeks ago that he learned he would be serving his reserve time in the Middle East.
Quinn explained that as a member of the Navy Reserves he dedicates one weekend a month and two weeks a year to military service. He said traditionally he spends his two weeks of service in places like San Francisco or San Diego.
However, this year things are a little different. Quinn said the military is currently in the process of rotating troops in the Middle East, sending those who have been there home and getting new troops ready for duty. Quinn said the United States is not currently storing any of its equipment in the Middle East, meaning that when one unit comes home, their equipment comes home with them.
This is where the Military Sealift Command steps in. Quinn explained that one duty of the command is to ship equipment from one place to another.
Quinn said since receiving word that he would be serving his time in the Middle East, and in February as opposed to this summer when he was originally scheduled, there have been a lot of little things to take care of. Quinn said he has had to make sure his paperwork was completed, his passport was ready to go and he had to receive an anti-terrorism brief.
Quinn said he is a little anxious about the trip, but said he is also excited to help.
During his time in Saudi Arabia, Quinn said he will ride the Military Sealift Command ships, checking with the people on board to ensure they are doing well. He said he makes himself available to anyone who has a religious need. Quinn said while in Bahrain he will also take time to visit with the other four chaplains who are stationed in the area. He explained that many of the people on board the Military Sealift Command ships are not in the military, instead there are a lot of civilians who work on the ships. Quinn said in talking with the other chaplains he wants to ensure they know the civilians on board the ships are just as much in need of their services as those military personnel stationed in the region.
"They are people they need to take care of, too," Quinn said.
This past Sunday morning, Quinn took the opportunity to conduct services at the United Methodist Church in his Navy uniform. He talked to those in the congregation about his upcoming service overseas. Quinn noted that one member of the congregation was thoughtful enough to put together a devotional booklet for the two weeks he will be gone. He explained that the devotional offers him a way to pray with members of his church every day he is gone.
"I was humbled," Quinn said by the gesture.
Quinn said he is hoping to come back from Bahrain with a deeper appreciation for the work those military personnel are doing in the Middle East. Quinn is scheduled to be back from Bahrain Feb. 27.
. Elena Olmstead can be contacted at (509) 837-4500, or e-mail her at eolmstead@eaglenewspapers.com