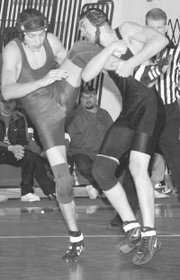 GRANGER - All but one of the Mabton High School wrestlers is going on to Regionals at Royal City this coming weekend. But the key to advancing as one of the top four finishers out of this region to State for the Vikings, said Coach Ron Rutz, will be his team's ability to finish off opponents.
In three separate matches at Districts this past Saturday in Granger, Rutz's wrestlers had a chance to get a pin on an opponent and couldn't do so. The inability to finish off an opponent in these matches ended up costing Mabton, said Rutz.
The Vikings took fourth place honors at District with 152 points, a point behind third place White Swan. Zillah won the District title with 265 points while Granger was second with 172. Goldendale (105.5) took fifth. Highland (97) was sixth and Cle Elum (80.5) was seventh.
The Vikings crowned two individual champions.
Abel Barcenas went 2-0 at 125 lbs., manhandling Zillah's Dustin Sandlin in the finals, winning 6-1. Barcenas, who entered as a No. 1 seed, feasted on Zillah wrestlers Saturday, defeating Art Sevigny 7-2 in his opening match.
"Abel did a great job," said Rutz. "He wrestled well."
The Vikings' other champion was Alex Gutierrez, who was also a No. 1 seed, at 130 lbs. Gutierrez won a competitive opening match 11-8 over Tyler Martinez of White Swan. Gutierrez then got by Kyle McClain of Highland 4-2 in the championship match. Rutz said Gutierrez showed some wrestling skill in each of his matches, especially the finals. Gutierrez rode out McClain in the third round to capture top honors.
At 112 lbs., Mabton's Andy Torres (1-1) took second place, losing to Zillah's Vicente Mendoza in 2:30. Rutz said Torres wrestled well, but missed some opportunities to finish off Torres in the opening round.
At 119 lbs., Mabton's Victor Bustos also took second, finishing 1-1. Bustos lost an 8-0 decision to Granger's Sam Sanchez. Bustos battled the much heralded Granger grappler with the match scoreless headed into the third period. Bustos couldn't hold it together in the third round, giving up all eight points.
Javier Galvan went 1-1 for Mabton at 140 lbs, losing 13-2 to Mike Salcedo of Granger in the finals. Rutz said Galvan wrestled well, but Salcedo came in with 30 wins on the season and looked tough.
"He wrestled a tough kid with a different style," said Rutz. "Now we know what to expect."
Robert Marquez was the other Viking taking runner-up honors, at 215 lbs. Marquez lost to Goldendale's Chase Warner 15-1 in the finals. Warner placed fourth at State last year. The Viking freshman had one of the most noteworthy matches of the day, pinning Zillah's Sydney Miller in nine seconds in his first match.
Cesar Macedo was third for the Vikings at 152 lbs., going 2-1. Macedo beat Granger's Jaime Almaguer 5-2 in the consolation finals.
"He did well," said Rutz. "That was probably one of his better matches."
Noe Calixto was the other third place finisher for Mabton. Calixto went 2-1 at 189 lbs., defeating Cle Elum's Matt McKinsey in 2:12.
Jovanni Ochoa was 0-2 at 145 lbs., but still advanced to Regionals since there were only four wrestlers in the weight class.
Mabton's Marcos Zepeda placed sixth at 135 lbs. with a 1-3 mark.
Regionals is this Saturday at Royal City. The top four wrestlers in each weight class will move on to State.
. Mike Kantman can be contacted at (509) 837-4500, or email him at mkantman@eaglenewspapers.com