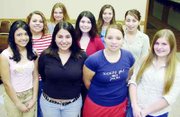 GRANDVIEW - Nine high school juniors tossed their hat into the ring Monday night, turning in forms and learning what the next two months has in store for them as they prepare to vie for the title of Grandview Junior Miss 2004.
The nine girls in the running include Cheyanne Trevino, Tara Collins, Kesha Cruz, Lita Cervantes, Jae Mains, Jody Davis, Jessica Varner, Rosie Madrigal and Liz Razo.
Grandview Junior Miss Chairwoman Cookie Shannon said following Monday night's meeting the girls will begin the process of getting ready for the program, set to take place Saturday, April 17, at Grandview Middle School. She said the girls will have to begin work on what their talent will be for the program, as well as narrow down their gown choices for the poise portion of the event.
Grandview Junior Miss contestants are judged in five categories. The interview, which takes place individually in front of five judges, accounts for 25 percent of the judging, as does talent. Scholastic is 20 percent of the judging, and includes five scholastic judges evaluating the candidates' transcripts. The poise category is worth 15 percent of the judging. This is the portion of the program where the candidates come out on stage in their evening gown and answer an impromptu question. The final 15 percent of the judging comes from the fitness portion of the program.
Shannon explained that the Grandview Junior Miss program is an educational program, with the contestants vying for scholarship funds.
"I prefer to think of it as a program that helps build a young woman's self esteem," Shannon said.
Before the big night, the contestants will also have to dedicate themselves to two weeks of practicing for the program, as well as sign up to take part in the upcoming Grandview Junior Miss yard sale, which will take place Saturday, March 6, at Compass High School.
. Elena Olmstead can be contacted at (509) 837-4500, or e-mail her at eolmstead@eaglenewspapers.com