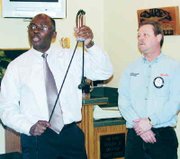 Americans' passion for fad diets and an enthusiastic aversion to exercise is making them fatter, claims Ogie Shaw, Oregon's answer to national fitness guru Jack LaLayne.
After more than 25 years as a fitness trainer, Shaw, a fitness guru in his own right, has sworn off trying to get people to run, jump and do hundreds of sit-ups.
"You still aren't exercising," he told a room of Sunnyside Noon Rotary Club members during their Monday noon meeting.
"I can see you are not," he said. "There are a lot of you in this room who have 'furniture disease'. Your chest has slipped into your drawers," he said.
"For the past 30 years, we've known that we are failing basic fitness tests and yet for 30 years Americans have had the strength to resist exercise," he added.
Americans list being lazy and not having enough time as excuses as their main reasons for failing to stick to a regime of physical fitness. Others say they can't stay motivated and exercise routines are not fun.
"If it's fun you're not doing it right," Shaw said. "Exercise doesn't do you any good if it doesn't tire you out, if it doesn't raise your heart rate," he said.
Shaw, who is the CEO of his own company, Ogie Shaw Fitness, has a prestigious list of clients, including Oregon's National Guard troops, the Portland Trail Blazers basketball team and the Seattle Seahawks football team. He has worked with NASA's astronaut physical fitness training program and is an athlete in his own right.
"You all know what you should be doing to stay fit," he said. "But how many of you exercise a minimum of 45 minutes a day, three times a week?" he asked, nodding his head when only a few hands were raised in response.
"But all of you have gone on diets at one time or another," he noted. "Quit that," he advised. Shaw said since Americans decided that dieting would cure their fitness problems, the obesity rate has gone out of control.
"Dieting doesn't work," he said, saying that cutting back on food just makes a person's brain think the body is being starved.
"Dieting slows your metabolism rate, causing your body to store fat," he explained.
While blasting Americans' obsession with dieting and avoidance of exercise, Shaw did have some suggestions for getting on the right track.
"There is an exercise program which will help you get back into shape," Shaw said.
Developed by the NASA program to help astronauts keep in shape while in a zero gravity state, the gadget is a silver tube with two pulley ropes. Called the Isorobic exerciser, Shaw demonstrated how the exerciser uses tension and resistance to build muscle strength and improve cardiovascular tone in a simple five-minute workout.
He also encouraged the club members to make exercise, any kind of movement, a part of their daily habits, "just like brushing your teeth. Just stick to it."
Shaw recommended the Rotarians read Dr. Roy Vartabedian's book, "Nutripoints," a book Shaw believes offers the "best information about getting proper nutrition."
"Don't diet, just eat right," he advised.
. Julia Hart can be contacted at
(509) 837-4500, or you can e-mail her at jhart@eaglenewspapers.com