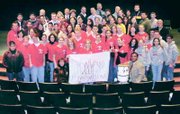 Saying they face tough choices every day, Sunnyside High School leaders were honored last week by national leaders in the fight against substance abuse in schools. Honored as student heroes for their stand against substance abuse were members of the SHS Leaders in Action group, Club SADD (Students Against Destructive Decisions) and TATU (Teens Against Tobacco Use).
The group of 50-plus students gathered in the Sunnyside High School auditorium Feb. 4, to be presented the National Outstanding Youth Leadership Award from the Substance Abuse and Mental Health Services Administration (SAMSHA). The trophy was presented to the students by Dr. Judy Kosterman, Washington's state former "drug czar."
Kosterman, who now works with the U.S. Department of Education, praised the teens for their roles in changing the climate at their school and in the community.
"Every day you are called upon to make tough choices and you make them," Kosterman told the teens.
"It's not always easy, but there are people who respect you for what you do and that is what this award is all about," she explained.
The teens leaders, supported by SHS and Sunnyside's Promise, were also honored by the national organization during the SAMSHA's Faith and Community Summit held Jan. 18-23 in Washington, D.C.
The SHS students were applauded for the impact they make on their peers by example and student-driven anti-abuse activities. Among the activities were those which provide alternatives to youths who are tempted to use alcohol, tobacco and drugs, said John Hughes, Sunnyside School District Safety Director. The teen leaders represent athletes, club presidents and church youth groups.
"The young leaders have worked among their peers, hosting anti- smoking campaigns, as well as drug prevention programs for middle school-age students," said Hughes.
He said the teens' work during the past two years has resulted in several awareness programs now being used in classroom presentations in Sunnyside schools and at church youth group meetings.
Kosterman also praised the youths for their courageous stand against drugs and for their dally decisions to be healthy role models to others in the community.
"It is because of your decision to stand for change that you've earned this leadership award," she said.
"It's not just little kids who look up to you," Kosterman added. "Adults in your school, your community and in Washington D.C. look up to you."
The SHS student leaders were also honored by state leaders Thursday, Feb. 5, when they traveled to Olympia, to meet with Washington State Lt. Gov. Brad Owen.
. Julia Hart can be contacted at
(509) 837-4500, or you can e-mail her at jhart@eaglenewspapers.com