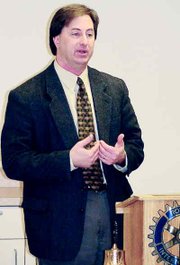 Putting people to work throughout the community is a job Horizons Inc. Executive Director Tom Gaulke is proud to do.
Gaulke served as the guest speaker for the Sunnyside Daybreak Rotary Club Wednesday morning. He spoke to the group about the work Horizons Inc. does, as well as how what is done in the building on Barnard Boulevard affects the entire community.
Gaulke explained that Horizons Inc. is an organization that works to find gainful employment for people with developmental disabilities, as well as other disabilities, and low income farm worker families.
He told Rotarians that 3 percent of the population has a developmental disability. He said in the Sunnyside area alone, Horizons is currently working with 70 people with developmental disabilities.
Gaulke went on to explain that most people with a developmental disability receive a $455 monthly Social Security check for their entire lives. He said the state chips in approximately $1,000 a month for residential support if the person requires it, and offers funds to the county for employment services at a cost of about $500 per person each month.
However, Gaulke said if Horizons can place a person with a developmental disability in a job that pays anywhere from $1,200 to $1,400 a month, the need for state assistance can be eliminated.
As for how Horizons works to pair people with local jobs, Gaulke said there are different programs and services offered by the non-profit organization.
He said the first step in getting someone ready for a job is through Horizons' pre-vocational training. Gaulke said Horizons contracts work for people with developmental disabilities to do on site at the Horizons building. For example, they contract with Pacific Power to tear down power meters, salvaging metal parts from the boxes. He said those doing the work do earn a paycheck.
The second step, once a person completes pre-vocational training, is to take part in Horizons' group employment program. Gaulke said group employment is a county funded program that divides people up into mobile work crews. He told Rotarians that Horizons has several mobile businesses people can work at, including a janitorial service and a grounds maintenance service. He explained that the group employment program offers people a chance to get out into the community and work with other people.
Once a person with a developmental disability has completed time in the group employment program, Gaulke said they are then ready for individual employment. He explained that Horizons will go out to local businesses and look at different positions they have open. He said Horizons will then go in and talk to the business owner or manager about the pre-screened, pre-trained person they have who can fill the position.
Gaulke said hiring someone from the Horizons program can come with many benefits for local businesses. For example, he said the employer will be able to take a work opportunity tax credit for the first two years the person is employed. Gaulke said Horizons will send a job coach along with the person who is hired if a business owner desires the service. The job coach will help teach the person the job that is required of them.
Overall, Gaulke said Horizons has helped place many people in local jobs, and said those people are often the most dependable and safest employees a business can have.
"History has shown you are never going to find a better employee as far as attendance and safety," Gaulke said.
. Elena Olmstead can be contacted at (509) 837-4500, or e-mail her at eolmstead@eaglenewspapers.com
More like this story