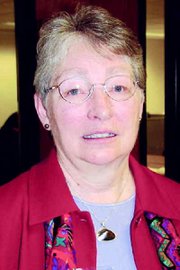 YAKIMA - Every breath you take during gray winter days may be a danger to your life, according to Dr. Harriet Ammann of Washington's clear air program.
Ammann, a senior toxicologist with the state Department of Ecology, was in Yakima Wednesday to share her findings with the Yakima Regional Clean Air Authority. Her work into the dangers of airborne toxins and hazardous particulates was also the topic of a Wednesday night public meeting in Yakima.
Ammann said tiny particles, which can't be seen except under extreme magnification, are impairing and compromising the lungs of children, the elderly and those adults who suffer from respiratory diseases. Children in particular are at risk during days the air is heavy with wood smoke and other combustibles. "Children breathe more air per body weight than adults and tend to be more active. As a result, they breathe the toxins in the air deeper into their lungs, resulting in damage to their yet underdeveloped lungs.
"That is why we are seeing more cases of respiratory diseases among infants and children in our emergency rooms," she said.
Also at risk are older adults, who are losing their ability to fight off diseases, such as heart and circulatory illnesses. Increased exposure to the particles can also lead to death.
Ammann's presentation to the Clean Air Authority will become a part of the agency's new particulates measurement maintenance plan. The PM2 plan is available for review at the Yakima authority's offices before it will be presented to the state Environmental Protection Agency later this year.
Les Ornelas, director of the Yakima Clean Air Authority, said Yakima County is making progress in reducing the number of dangerous particulates in the Yakima Valley air.
He said the use of bans on outdoor burning on heavy inversion days, voluntary wood stove certification programs and the banning of outdoor burn barrels has helped the county to clean its air. He said the restrictions on wood burning on low visibility days is also aiding the air quality.
The county is expected to adopt its PM2 maintenance plan by June 9, 2004.
. Julia Hart can be contacted at
(509) 837-4500, or you can e-mail her at jhart@eaglenewspapers.com