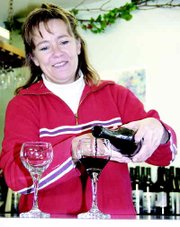 Boxes of chocolates, bouquets of flowers and jewelry are all traditional Valentine's Day gifts. However, there are plenty of other options open to people living in the Lower Valley. Tokens of how much you care can be given in the form of everything from a weekend at a local bed and breakfast to a special dinner cooked right at home.
For Dale Beck of Beck and Co. Jewelry Design Gallery in Sunnyside, jewelry is a very traditional Valentine's Day gift. Beck said he thinks jewelry is one gift people tend to lean towards when it comes to Valentine's Day because of the strong connection between jewelry and romance. For example, when marriage is proposed it's jewelry that is used to signify the commitment.
Beck said in the weeks leading to Valentine's Day he will sell a lot of heart shaped gemstones, usually either diamonds or rubies. Beck said people also come into the store looking specifically for Valentine's Day charms for charm bracelets.
Beck said the shop also carries a variety of crystal vases, which make for nice flower arrangements. Another new twist on a traditional Valentine's Day gift is a 24 carat gold rose. Beck said the rose is a real flower dipped in 24 carat gold.
Flowers are another traditional Valentine's Day gift. Mark and Sara Cook, owners of Morris Floral, said Valentine's Day is the shop's biggest day of the year.
"Last year Valentine's Day was like doing a whole month's worth of business in one day," Mark said.
The Cooks said the biggest sellers come Feb. 14, are dozen and half-dozen bouquets of red roses.
However, Sara noted that there are people out there who would prefer to get something with a slightly longer life span than cut flowers for Valentine's Day. She said she has had women come up to her and request that when their husbands walk through the flower shop's door that they be directed toward the potted plants.
According to Mark, flowers and plants make good Valentine's Day gifts because it makes whoever is receiving them feel special.
"Flowers make you feel good," Sara said. Mark added that when a person receives a bouquet of flowers they know it was made especially for them. "It brings out happiness in a person," Sara finished.
Another gift that can evoke happiness in a person is the gift of chocolates. Pam Alexander Auld, CEO of Chukar Cherry Company Inc., said she thinks chocolate has remained an integral part of Valentine's Day because it's sweet.
Auld said Chukar Cherries uses dried fruit and enrobes them in natural chocolate, leaving their customer with a premium chocolate gift for the coming holiday.
"It's just really complementary," Auld said of the combination of dried fruits and chocolate.
Auld said some popular gift items this Valentine's Day have included the company's cabernet chocolate cherries, which feature a red tart cherry covered in semi-sweet chocolate; black forest chocolate cherries, which are bing cherries covered in semi-sweet chocolate and dusted with cocoa powder; and chocolate honey roasted pecan, which are honey roasted pecans covered in milk chocolate.
However, Auld said, Chukar Cherries also offers some Valentine's gift ideas to satisfy a dieter's sweet tooth. She said the company offers everything from naturally dried Rainier cherries to a cherry pistachio mix.
Another Valentine's idea that combines chocolate with the tastes of the Valley is the ninth annual An Intimate Red Wine and Chocolate Affair, which benefits Lower Valley Hospice.
Lyla Wandling of Lower Valley Hospice said the event, set to take place Friday, Feb. 13, will give those in attendance a chance to taste different red wines offered by local wineries, as well as different chocolate confections, which will make up the ultimate chocolate judgment. The judgment is a contest featuring chocolate desserts made by area chefs.
Wandling said the event will also include music from an area jazz band, as well a small silent auction.
The Intimate Red Wine and Chocolate Affair also serves as the kick-off for the annual Yakima Valley Red Wine and Chocolate weekend, which brings wine tasters from all over the state to the Yakima Valley to taste different red wines, alongside chocolate treats.
Randy Tucker of Tucker Cellars said the association of red wine and chocolate seems to be increasing in popularity, and he thinks a lot of has to do with the romance associated with both items.
Tucker said Tucker Cellars offers 13 different wine varieties, and is planning on releasing a new port, a sweet red wine, for the coming event. He said the winery will also be serving chocolate truffles.
Overall, Tucker said wine can make an excellent Valentine's Day gift in and of itself, adding that he typically sees a lot of sweet white wines purchased this time of year, although he noted that he also sees a good number of dry red wines being sold.
"People have a lot of different palates," Tucker said, noting that there is no telling exactly which wines will be popular as gifts. "No two palates are the same," he said.
Another local winery gearing up for the Red Wine and Chocolate weekend is Tefft Cellars in Outlook. Tefft Cellars offers visitors a different way to celebrate Valentine's Day. Located near the winery is the Outlook Inn, a bed and breakfast featuring three bedrooms, a working kitchen and a living room space. Brian McKee, general manager of Tefft Cellars, said the bed and breakfast features a wine theme and is only rented out to one party at a time. This means that regardless of whether you use one bedroom or all three, you will have the entire bed and breakfast to yourself.
McKee said the house was remodeled last winter, with each of the three bedrooms now featuring its own bathroom.
"It's a home away from home," McKee said. He noted that the deck extending out from the house can serve as a romantic place to share a bottle of wine and watch the sunset over the neighboring vineyard.
For those people who are interested in spending Valentine's Day weekend a little farther from home, Dottie Cervantes of Travel Connection in Grandview said there are plenty of places a couple can visit together.
"Because it falls on the weekend a lot of people want to do a West Coast package," Cervantes said, which can include traveling anywhere from the Rocky Mountains to the Pacific coastline.
Cervantes said when planning a romantic getaway for Valentine's Day the most important thing is making sure you're spending the time with someone special, where you go comes second.
"For some parents just getting away from the kids is good," Cervantes said.
Those people who don't necessarily want to find a baby-sitter for Valentine's Day can bring the romance of the holiday home. Lori Charvet of Countryside Catering in Grandview said creating a special dinner at home can be as easy as cooking your sweetheart's favorite dish and serving it on your best china. She said adding stemware and good silver can also help lend a more romantic feel to any meal.
For those who want to create a special meal without taking gourmet cooking classes, Charvet suggested starting with dessert. She said dessert can be as easy as baking a chocolate cake, then serving it topped with pie cherries, whipped cream and chocolate syrup.
For those who feel more comfortable in the kitchen, Charvet suggested cooking a pork tenderloin served with an apple chutney.
However, just because dinner is served at home doesn't mean people can come to the table dressed casually. Charvet said it can be nice to dress up for dinner at home. She also added that serving dinner at home also means that things can go at your own pace. There can be time to linger over dessert and share appetizers before the main course.
"Make it a two-hour meal," Charvet said.
Electric Beach in Sunnyside offers a variety of ways to make your Valentine feel special, from full body massages to pedicures and tanning, the local business offers a bit of everything.
Angela Dalrymple, manager of Electric Beach, said the shop houses a massage therapist, tanning beds, an exercise room, a gift shop and a full service salon, as well as espresso. She said gift certificates can be purchased for just about any service the shop offers.
Cathy Hunsaker of Scissor City, the salon housed at Electric Beach, said receiving a gift certificate for a pedicure or a haircut can make anyone feel special.
"It makes that special person feel wonderful," Hunsaker said.
Those people looking for more traditional ways to show their Valentine how much they care can find everything from candles to picture frames at the Funny Farm in Sunnyside.
Theresa Hancock, owner of the Funny Farm, said the shop offers a little of everything. She said in the past few days women have been coming into the shop picking up little gifts for their husbands, including everything from Valentine coupon books to gift packs of quality liquor.
Hancock said men coming into the shop have been looking at everything from boxes of chocolates to candles.
However, Hancock said one of the most important things she offers for Valentine's Day is a wide variety of Valentine's Day cards.
"A card is an important thing," Hancock said.
. Elena Olmstead can be contacted at (509) 837-4500, or e-mail her at eolmstead@eaglenewspapers.com