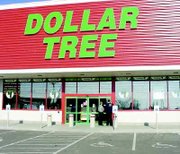 by Julia Hart
The 50 new Sunnyside Dollar Tree Store employees are eagerly awaiting the March 1 opening of Sunnyside's newest discount store.
Located in the former Staples building on Yakima Valley Highway, a grand opening of the new Sunnyside business is tentatively scheduled for mid-March, according to Terry Peters, the Central Washington district manager for the national company.
The Dollar Tree store specializes in hundreds of $1-only priced every day, seasonal and gift items for the house, pets and personal care.
Peters said the store's new management team is now in training in preparation for the March 1 opening.
"Stock will begin arriving at the store next week and staff will be on hand to start filling the shelves beginning Monday, Feb. 16," Peters said.
"It usually takes two weeks to get the store ready for opening," she said.
The store will be open to shoppers seven days a week, from 9 a.m. until 9 p.m.
The Dollar Tree chain boasts 2,500 stores across the United States. The Sunnyside Dollar Tree is the fourth store in the region, with Dollar Tree stores also located in Yakima, Richland and Kennewick.
Peters said competition for the Sunnyside store's 50 positions was very competitive. "We had more than 500 people apply for jobs at the Sunnyside store," she said.
. Julia Hart can be contacted at
(509) 837-4500, or you can e-mail her at jhart@eaglenewspapers.com