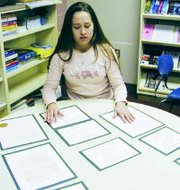 A win at the Washington State Science and Engineering Fair last April has earned Kacee Jo Bootsma yet another opportunity to show off her inquiring mind.
The Sunnyside High School junior is presenting an abstract of her award-winning project, entitled "Reduction of Textile Pollution With Natural Products," to the American Association for the Advancement of Science (AAAS) at its national conference being held in Seattle, Feb. 11-14.
Bootsma was asked to take part in the Association's American Junior Academy of Science's (AJAS) poster program as a Washington State representative this past September.
While attending the junior academy, Bootsma will present a poster featuring the research and conclusions she made while examining dyes, fibers and pollution.
As a junior academy delegate, she will give both an oral and a poster presentation before a panel of national science leaders.
Her abstracts will be also be included in the 2003 National AAAS Directory Proceedings and Handbook.
Bootsma's state championship science project earned her a trip to the International Science and Engineering Fair held in Cleveland, Ohio last May. In addition, she was the winner of a Stockholm Junior Water Prize last spring, an honor which earned her a trip to Dallas, Texas.
With more than 138,000 members and 275 affiliated societies, AAAS serves as an authoritative source for information on the latest developments in science, and bridges gaps among scientists, policy-makers and the public to advance science and science education.
The group's AJAS is the only national honor society exclusively for high school scientific researchers. Membership is offered to the winners of statewide youth competitions.
As an AJAS delegate, Bootsma is among an elite group of teens, selected by scientists from their state or regional scientific organizations and academies to participate in the academy programs.
. Julia Hart can be contacted at
(509) 837-4500, or you can e-mail her at jhart@eaglenewspapers.com