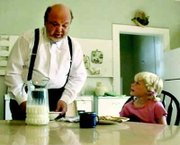 KENNEWICK - Michael Charboneau's life-long dream to be a filmmaker is finally a reality.
The Promise, a film written, produced and directed by the Benton City man, will premiere in the Tri-Cities next Thursday and will feature a number of Lower Valley faces.
The most visible face will be that of 9-year-old Pamela Serrano of Prosser, the leading character in the hour and 30-minute movie.
The adorable, little Prosser Heights Elementary School fourth grader plays 6-year-old Emily in a role Charboneau said he patterned after his own daughter.
"She is one of 12 little girls who auditioned for the part," Charboneau said. "And she was best suited for the part."
The young actress was encouraged to audition for the part by Valley Theater Company member Kim Mears, who saw Serrano perform in the chorus of a Prosser High School senior play last year.
Also appearing in Charboneau's film are two other Valley Theater veterans, Candance Andrews of Prosser as an extra in scenes shot at Seattle's Pikes Place Market, and her husband, Rick James, who plays Serrano's movie father in The Promise.
The Promise is a low-budget, family film shot entirely in Washington, featuring many landmarks familiar to Yakima Valley residents. One of the scenes was staged at Granger's Hisey Park featuring what Charboneau called Dinosaur Days. "The scenes feature many Granger residents as extras," he said.
James, as Emily's father, constantly makes promises he is unable to keep. He is finally able to secure a position that will allow more time with his family. Before leaving for the job interview, he promises his daughter a trip to the Seattle Aquarium upon his return.
Due to a tragic accident, the father is killed. Emily, being too young to understand the finality of death, refuses to accept the fact that he is gone. Thus, she goes off on a cross-state adventure to meet her father at the Seattle Aquarium. As she states, "A promise made is a promise kept."
Emily is aided in her travels by various individuals, including a Mennonite farmer, the Celtic band Skweez the Weezle, and a homeless man from Seattle. The fun ensues as she innocently stays one step ahead of the authorities while finding her way to Seattle.
Serrano as Emily shows undaunting faith and innocence which serves as the perfect character traits for her cross-state adventure.
Emily's movie mother, Katrina Roberts, is originally from Tieton. Now living in the Tri-Cities, she plays Susan Bailey, a protective mother who unconditionally loves her family.
Also featured in the film are Tri-Cities actor Paul Roy as Officer Hall, the detective investigating Emily's missing child case; Joyce Bean as Clarisse, an elderly woman who befriends Emily on a bus; Gloria Cummins as Louise, a female truck driver; and Jim Salaba as Samuel, an elderly Mennonite farmer.
Actors Joseph Deines and Crystal Waddell play Tim and Brenda, a mid-twenties couple who discover Emily as a stowaway on a car trip to Seattle, and Montgomery Stevens portrays Frank, a homeless man who assists Emily in Seattle.
Skweez the Weezle appear as themselves, a Tri-Cities Celtic band traveling to perform at a concert for Granger's "Dinosaur Days."
The film will premiere in the Tri-Cities on Thursday, Feb. 19, at 7 p.m. at the Richland Uptown Theatre. A limited number of tickets are for sale by calling 509-943-ARTS
The Promise will also be presented March 12 and 13 at the Battelle Auditorium in Richland. Tickets may be obtained from the above number. Charboneau said he is also in talks with Sunnyside Theater owner Ray Hallett to see if a showing might be presented at Grand Way Cinemas in the near future.
"I made this film for my children because I wanted to do something suitable for family viewing," he said.
The Promise is his feature directorial debut, but he is no stranger to the creative process. He is a national award winning producer of television programs and has received recognition for his efforts from such organizations as the National Association of Telecommunications Officers and Advisors. He is also the recipient of a New York Film Festival Award.
He is an avid writer and has developed five additional screenplays he plans to produce. Charboneau is currently the cable communications coordinator for the city of Richland, overseeing the daily operations of its governmental access channel.
. Julia Hart can be contacted at
(509) 837-4500, or you can e-mail her at jhart@eaglenewspapers.com