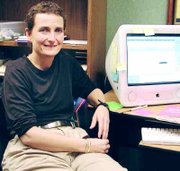 MABTON - Artz-Fox Elementary School Principal Julie Schmick can be hard to find. Her office space is no longer in a spacious, windowed room in the bustling school's main office. Rather, her office is a small room off a main hallway with a sign on the door reading, "Welcome to the Closet."
Schmick is taking a different direction in the instructional leadership of the school and for her, the move is one way that helps her show where she is going.
She spends little time in the office, and instead is in the classrooms providing leadership for teachers as the school continuously strives to better educate its students.
"We're improving instructional practices in the classroom and we're all becoming stronger learners and leaders," she said.
Schmick's efforts at Artz-Fox Elementary School have earned her the recognition as the 2004 South Central Washington Regional Principal of the Year for ESD 105.
"It's really a team effort," she said. "I feel like I'm representing the hard work that's happening here in Mabton."
Schmick said she feels she is also representing all of the principals from Cle Elum to Grandview.
"We have a dynamic group of principals from this region," Schmick added.
A former Sunnyside School District teacher, who taught third, fourth and sixth grades, Schmick made the switch to administration seven and a half years ago. She mentored under Pioneer Elementary School Principal Stan Davis before being hired by the Mabton School District six years ago.
Taking an active leadership role at her school, Schmick is working with kindergarten and first graders in a program called the "Breakfast Club" before school. And fourth through sixth graders are able to develop academics and self-concept while playing games during the "Lunch Bunch".
"It gets me back with the kids, which is what I love," said Schmick.
The principal of the year award will put her in the running for state principal of the year, which will be determined later this year.
. Melissa Browning can be contacted at (509) 837-4500, or e-mail mbrowning@eaglenewspapers.com