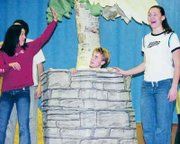 A story of jealousy, power and betrayal set to music is the foundation for the Sunnyside High School Drama Club's presentation of Joseph and the Amazing Technicolor Dreamcoat.
Under the direction of Maisy Sylling, with aid from Heidi Hellner-Gomez, opening night for the high school singers, dancers and actors will be Thursday, Feb. 19, on the stage of the Sunnyside High School auditorium.
Leading the cast as Joseph is Robert Grimmer, with Jennifer Jones as the narrator. Mitch Lathen plays Jacob, Joseph's father, who is devastated when his sons decide to sell their youngest brother to a band of traveling traders.
Reporting Joseph's death to their father sets into motion one of the most touching stories in Biblical history about family betrayal. The treacherous brothers will be played both male and female actors, including Dane Smith, Jose Esquivel, Luke Spilles, Rebecca Razey, Brian Harvey, Alaina Hull, Anna Henry, Jessica Fuller, Tony Magana, Nikki Castro and Leslie Jones. Jon Martin and Keely LaCombe will play Adam and Eve. Jacob's wives include Aurora Weaver, Estela Florez, Amber Guy and Chelsea Clements. Ishmaelites will be played by Danny Mendoza, Alex Jetter and Richard McCardle.
Dancers include Sherran Garcia, Heather Van Cobach, Dione Cohan, Jessica Zamorano, Kat Bingham and Marika McNerney.
The brothers' wives will include Alyssa McMinimee, Courtney Cohan, Keely LaCombe, Jillian Jetter, Laura Matson, Lizzy Shehata, Brionna Hughes, Erendida Manzo, Marika McNerney, Tabitha DeRuyter and Heather Van Corbach. Sunnyside High School teacher Troy Whittle will be the lone adult actor in the production, playing the Pharaoh. The nearly all-student production is aided by musical director Katie Haney and Dorothy Cohu. Student stage managers are Janelle Kilian and Matt Thomas. Lighting technicians include Jeff Davis and Ryan Webster, with Jeff Martin handling sound. Jessica Schilperoot and Norma Lopez are in charge of make-up.
The lobby crew under the direction of house manager Angela Marin includes Abi Anderson, Heather Deaton and Meagan Kraxenberger.
Also working behind the scenes are students Jaymee Arevalo, Kristina Bobadilla, Brian Campbell, Tony Cantu, Andrew Cervantes, Angela Hansen, Beatriz Jimenez, Joaquin Lopez, Kari Mandrell, Maria Martinez, Mathew Martinez, Stacie McIntire, Riley Morris, Perla Ortega, Lanna Pangle, Cami Richardson, Juan Rivera, Marissa Ruiz, Jesus Sanchez, Aaron Saunders, Mark Uribe and Ana Valencia.
With music by award-winning Andrew Lloyd Webber with lyrics by Tim Rice, the SHS drama club production is one families will want to attend.
The SHS Drama Club will present the popular Broadway musical in five-performances - Feb. 19, 20, 21, 27 and 28, with the curtain going up all five nights at 7 p.m.
Ticket prices are set at $5 for adults and $3 for senior citizens and students.
. Julia Hart can be contacted at
(509) 837-4500, or you can e-mail her at jhart@eaglenewspapers.com