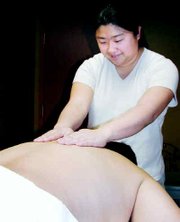 Sunee Conklin had a lot of jobs before deciding a career in healing damaged muscles was what she should be doing. She worked as a veterinarian technician for four years, and a variety of odd jobs before happening on some research about therapeutic massage.
It was a like a light bulb went on for the young woman, who is now a licensed massage therapist.
For the past year Conklin has worked with stroke victims, cancer survivors and injured workers, using touch to drive away pain.
Conklin sometimes thinks her need to relieve pain was an innate trait. As a little girl she pampered the feet of her adopted mother, Julie Graham of Grandview, without being asked. "It was just something I did," she said, adding that it wasn't until she was a mother herself that the urge to earn money as a therapist became urgent.
Her choice of profession came as no surprise to her parents. "They always thought I should be doing massage," said the 1996 Grandview High School graduate.
Now a graduate of Cascade Summit School of Massage, Conklin has contracted with Sunnyside physical therapists Don Parsons and Dyke Dickie to drive away clients' pain.
But don't confuse Conklin's brand of massage with the soothing, relaxing massage of what she calls spa massage. "I'm not involved in spa massage," said Conklin. "I do deep tissue massage and positional release therapy," she said.
"Sometimes that hurts, but I'm teaching the muscles to respond to something other than pain," she explained
For the past year Conklin has been working with Lower Valley clients taking physical therapy, whose doctors have prescribed massage as part of the patients' treatment plan.
Sometimes called rehabilitative therapy, Conklin researched a variety of massage techniques, before deciding that therapeutic massage was the area where she wanted to focus her attention. "I think of my work as a holistic approach to healing," she said. Her patients have included persons with neurological problems suffering from post polio syndrome to persons with Parkinson's disease. "I use a variety of methods, from trigger point therapy to lymphatic drainage massage," she said. Using all of these methods, Conklin has helped her clients overcome their pain and discomfort.
"It's only been recently that massage has become an accepted method of treatment," she said.
Many insurance companies now offer coverage of massage treatment plans, she added.
She said the medical community has found that massage not only helps to relax muscles, the process helps to improve immune systems, break down the toxins in one's body and aids circulation and helps to release endorphins.
Conklin continues to research the many forms of massage techniques in order to bring her clients' comfort. She recently developed an interest in aromatherapy, which she plans to use in her massage therapy.
. Julia Hart can be contacted at
(509) 837-4500, or you can e-mail her at jhart@eaglenewspapers.com