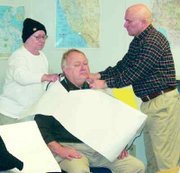 by Julia Hart
It's the kind of love story that reminds a person of O'Henry's "Gift of the Magi," a story about a couple's sacrifices to please one another.
Tom Shaffer is finding he is not as committed to having a full head of hair as he once was. A PRIDE High School teacher, he gave up his hair as a gesture of love.
A personal development teacher, Shaffer talks about setting goals and making commitments every day to his students. To prove his point, this past Wednesday Shaffer demonstrated what he means by commitment.
This past October Shaffer's wife, Dori, was diagnosed with an aggressive form of breast cancer. She is fighting the cancer with rounds of chemotherapy and radiation treatments.
"We always agreed to support each other no matter what, in sickness and health," said Shaffer.
So when his wife started losing her hair to the heavy doses of chemotherapy, Shaffer felt he needed to demonstrate his love and support in a very visible fashion.
So Shaffer, as a real life example of solidarity, sat in the front of his classroom for a session in the barber chair.
His head of curly gray hair quickly gave way to a smooth, shiny crown. Shaffer said his wife, who just finished her first round of chemotherapy sessions, will undergo treatment through July.
The couple, who have been together 12 years, are finding that a lot of things have changed since her illness.
"I'm finding myself doing a lot more chores while taking care of her," Shaffer said.
"I plan to keep my head shaved until Dori's hair all comes back," said the devoted husband.
While wife Dori isn't very fond of her hair loss, Shaffer said he likes his new look.
"Dori can't wait for her hair to grow back, but I think I may keep my bald head. It sure is easy to take care of," he laughed.
. Julia Hart can be contacted at
(509) 837-4500, or you can e-mail her at jhart@eaglenewspapers.com