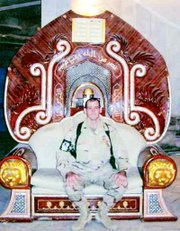 A mother's eyes. They can speak volumes without a single word being uttered.
Such is the case when you meet Sunnyside's Elsie Bell, if, that is, the subject of her son, Jim, comes up in conversation.
A stranger meeting Mrs. Bell for the first time might describe her as reserved...she chooses her words carefully and speaks directly, to the point. There is no effusing of flowery descriptives. A no-nonsense type person, yes, those meeting her for the first time might agree.
Yet, mention son Jim, and her eyes display a pride that books upon books of words could hardly describe.
These days, her son answers to James. Actually, his official moniker is U.S. Army Lieutenant Colonel James Bell, who is stationed out of Fort Hood, Texas. That's not to say he is presently living there, though, with wife Sheri and 4-year-old son Warren as was the case at the beginning of the year.
No, Mrs. Bell's son is now overseas, serving his country in Iraq with thousands of other American troops. An Army communications officer, he departed for the Mideast the first week of January.
Mrs. Bell can't, or maybe elects not to, tell you what her son's duties are in Iraq. She has been sent photos of James, standing atop former presidential palaces overlooking the city of Baghdad, even sitting in a former throne once occupied by Saddam Hussein.
She readily displays the photos when asked, gleaming with an unspoken admiration for the handsome, chiseled soldier that appears in the colored computer prints. Mrs. Bell doesn't offer up that her son, after graduating from Sunnyside High School in 1982, went on to graduate with the 1986 class at West Point. She'll inform you of that fact if you ask her point-blank, but don't expect her to openly brag about son James' accomplishments. Not, unless, you can read a person's eyes.
A chance meeting with Mrs. Bell also won't reveal that her son led a very active life while attending high school in Sunnyside. She makes no mention to his being a member of the school's National Honor Society, Science Club or Latin Club. Oh sure, she'll confirm it for you if you ask, but to let escape such tidbits into a conversation with a stranger might come across as bravado. No, she opts not to mention the pride she felt years ago when son Jim took on one of the lead roles, as Snoopy, when Sunnyside High School thespians staged the production of "You're a Good Man Charlie Brown." Mrs. Bell also remains spendidly mum when it comes to her son's other prep accomplishments, such as being named to the school's Student Council, or his time on the Grizzly golf team, or his days playing with the Grizzly band, or even him being named the "Most Spirited Boy" during 1980 homecoming week festivities.
To a stranger, those honors her son accomplished are best discovered in an old SHS yearbook.
But what Mrs. Bell will readily share are the messages, via e-mails, she now receives from son James. She points with pride to his words, that he is one of the American soldiers who is helping to liberate the people of Iraq.
"Suffice to say, we serve here to repudiate all that Saddam stood for and to help the Iraqi people achieve the stability and peace that has been denied to them for so long," he writes to his mother.
"There are many good things happening here that aren't 'newsworthy'," the lieutenant colonel continues on in his message to his mother. And he quickly adds, "The Iraqi people I've met so far have been appreciative of our presence."
Perhaps it is her son's involvement in returning to the Iraqi people their independence, their lives free of Hussein's torture chambers and death squads, that makes Mrs. Bell's eyes speak out with fierce pride.
Perhaps, it's just knowing that her son James continues to utilize his life to the best of his ability, maximizing the opportunities he has been presented.
Mrs. Bell won't tell you in so many words, but her eyes...yes, the eyes, reveal what only a mother can feel towards a son who has accomplished so much.
. Bob Story,can be contacted at
(509) 837-4500, or e-mail him
at bstory@eaglenewspapers.com