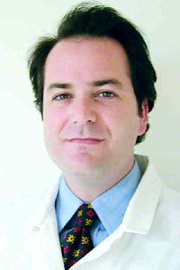 Valley Internal Medicine will soon have a new physician working side-by-side with long-time specialist Dr. Coke Smith, and Sunnyside Community Hospital will soon have a new member to its medical staff.
Dr. Francesco Vinci will join the staff at Valley Internal Medicine in Sunnyside, as well as at the Sunnyside hospital, upon the completion of his internal medicine residency at Pinnacle Health System in Harrisburg, Pa. Vinci was named the 2002 Resident Physician of the Year at Pinnacle's Harrisburg Hospital.
Vinci is a specialist in internal medicine. He graduated from medical school at the University of Rome and completed pre-med studies at the University of Calgary, Canada. Vinci completed two years of mandatory service in the Italian army before moving to the United States to complete his internal medicine training.
"Serving as a company physician for a group of soldiers was good training and an exciting experience," Vinci said.
Vinci was born in Singapore to Italian parents, and maintains both Canadian and Italian citizenship. Vinci, his wife Gemma and their four-month-old daughter are planning to move to the Lower Yakima Valley to accommodate the new position.
"We identified Washington as a place where we would like to live," Vinci said. "I was very impressed with the staff and the facilities at Sunnyside and look forward to working with Dr. Smith and others."