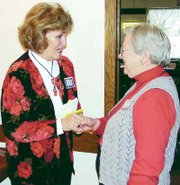 PROSSER - Using her skill as an interior designer, Federal Way businesswoman Betty Anne McIrvin presented a blueprint for life to the members of the Lower Valley Christian Women's Club Monday afternoon.
"We have to clear out excess clutter in order to create harmony in our homes and in our hearts," said the expert at creating environmental harmony in her customers' homes.
McIrvin, who for the past 30 years has shared her faith in God with women across the United States and in Europe, was in Prosser to explain God's blueprint for salvation to the more than 40 women gathered at The Barn Restaurant.
"When I go into a house to redesign a room, I'm not offering anything but a fresh eye," the elegant woman said.
"But it can be as hard as pulling teeth for some people to allow me to relocate a family heirloom to a new location," she said.
"That is how most of us are when it comes to holding on to years of bitterness and anger," she said.
"But when we let God come into our hearts, we have to let go of our old furniture of pain and anger," she said.
McIrvin said it took years for her to allow God to rearrange the rooms of her heart allowing for her to fully appreciate "his wonderful love."
She used situations of pain and revelation from her own life to illustrate how letting God and his son Jesus into her life changed things for her.
"I had to learn to repent, to forgive others before I fully realized I was still hanging onto years of built-up bitterness," she said.
Learning to let go of those roots required she rethink her life. "I finally was backed into a corner where I finally had to ask Jesus to help me," she said.
"I had to open my black heart to Him," she said.
She urged the women to share their fresh eye for Jesus with others. "Don't become choked on your own roots of bitterness," she cautioned.
"Let Jesus be the master designer in your life," she urged.
"Let him rearrange your heart so that it is filled with rooms of love, peace and forgiveness.
"It's a much better plan than man's," she added.