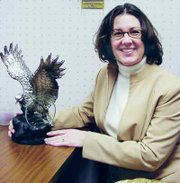 The Sunnyside JC Penney store has done it again. The store has met and exceeded its sales and profit goals for 2003, putting it into the top 1 percent of the company's nationwide chain of retail stores.
The Mid Valley Mall store, managed by Jonica Bridges of Sunnyside, is ranked 42nd from among 1,056 JC Penney stores.
"Our ranking may improve," said Bridges, who said there are still some final year end figures to be tabulated.
The store bested its 2003 sales and profits goals, as well as exceeding the previous year's sales and profits goals. The sales and profits increases earn Bridges the company's prestigious Chairman's Award.
The award earns Bridges, who has been the store manager for the past six years, a trip to Dallas, Texas